Following on from a unstoppable run of individual releases, HUGEL and BLOND:ISH join forces with reggaeton star Nfasis to release Tra Tra. A track which has been dominating dancefloors from Circoloco to EXIT Festival all summer, Tra Tra is available to stream and purchase from today.
Three artists with remarkable credentials, Tra Tra has been reimagined into a standout club-ready rework of Nfasis' much-loved original. Unique in style and gliding between Latin House, Afro House and a driving dance beat, Tra Tra has continuously found its way into the record bags of DJs across the globe and has ignited dancefloors and sound systems.
Here's what HUGEL had to say about the track:
"In the beginning we just wanted to experiment some Afro/Amapiano drums and then we had the idea to mix it with a reggaeton vocal. The sonic of this tune is very unique. It's a mix of a lot of different genre that never really been blended together. Collaborating with BLOND:ISH who is my favourite female DJ right now, and Nfasis a legend of the Reggaeton scene is a beautiful way to end this amazing year."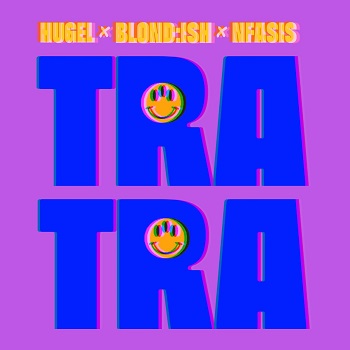 "I've been living in Miami, where Latin culture rules and I'm always inspired by my surroundings, so this collab with HUGEL and Nfasis was us experimenting with the cross section of genres & proper Latin vibes to get down on. A lot of my music is with a purpose, this one is a bit lighter and not meant to be taking ourselves so serious-lee. TRA TRA." – BLOND:ISH
Listen to the track below.