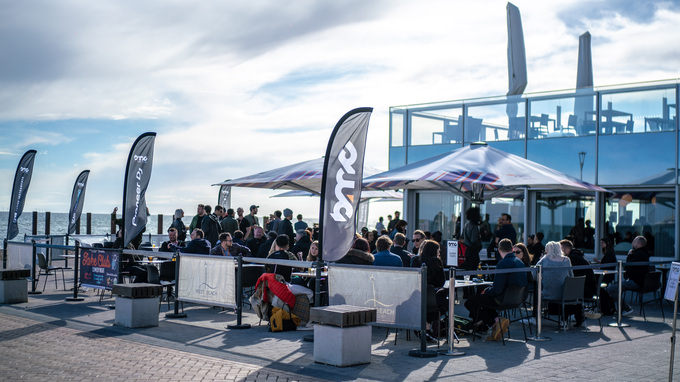 Brighton Music Conference (BMC), the UK's foremost electronic music and networking event will host its 10th Anniversary edition from 24th to 26th May 2023 at the prestigious Brighton i360 beachfront complex.
The first full edition on BMC after the pandemic in 2022 focused on getting 'back to the music' and the 10th anniversary edition will focus on the importance of communities with Bristol Night Time Economy Advisor, Carly Heath summing it up perfectly in her talk last year stating that "Nightlife is where communities happen".
The concept for the event came from the idea that the UK is a world leader when it comes to electronic music, but didn't have its own electronic music industry conference and so in 2014 BMC was born.
Starting life at the Brighton Dome the conference has grown into the leading event for electronic music in the UK with thousands of people attending and over 250 industry professionals taking part in events, panels and workshops over the three days each year, plus exclusive pod parties on the i360 observation tower, the Label Lounge A&R sessions and numerous networking events at some of Brighton's best loved venues to meet colleagues and make new connections.
BMC was also awarded by the NTIA at the Ambassadors of the Night Awards 2019 for their work and commitment to developing awareness and education of the UK Electronic Music Scene internationally within the NTE.
BMC Founder Billy Mauseth explains:
"When I started in the industry we didn't have anything like BMC to help people with their careers and we wanted to create an event that everyone can enjoy and a place for the industry to come together. We are all part of the same tribe, the same family and everyone can come together at BMC to learn, be inspired, network and enjoy amazing music and DJ sets."
BMC's vision is to create the most informative learning platform and networking opportunities to form new business relationships and collaborations for professionals and enthusiasts in the electronic music industry through various talks, seminars, workshops, networking events and gigs. BMC 2023 will once again present a full programme of panels, Q&A's, workshops and networking events which will take place over three days from 24th to 26th May 2023. More info on speakers and artists coming soon.
Over the years BMC has hosted some of the biggest names in the business including…
Above & Beyond, Andy C, Archie Hamilton, BLOND:ISH, Brandon Block, Bushwacka!, Charlie Tee, Carl Cox, Carly Wilford, Chad Jackson, Coldcut, Colin Dale, Crazy P, Cypherpunx, Danny Howard, Danny Rampling, Dave Clarke, Dave Seaman, David Morales, DJ Paulette, DJ Pierre, DJ Rae, DJ RAP, DJ Spen, Dubfire, Eats Everything, Faithless, Fatboy Slim, Freemasons, Friction, Greg Wilson, Hannah Wants, Irvine Welsh, Jaguar, Jansons, Jess Bays, JFB, Josh Butler, Judge Jules, Just Her, Justin Robertson, Katherine Ellis, Krafty Kuts, Leftwing:Kody, Lisa Loud, Luke Brancaccio, Marshall Jefferson, Mark Knight, Martin Ikin, Maxinne, Mighty Mouse, Mollie Collins, Marco Faraone, Mr C, Nolan, Orbital, Patrick Topping, Paul Oakenfold, Prok|Fitch, Rebekah, Roger Sanchez, Rowetta, Robert Owens, Sam Divine, Saytek, Seamus Haji, Secretsundaze, Serge Santiago, Shadow Child, Sister Bliss, SOLAH, Seth Troxler, Stanton Warriors, Steve Mac, Tom Middleton, Trevor Fung and many more.
The legendary pod parties on the i360 observation tower with views across the city and the south coast have featured some of the biggest artists including; Alan Fitzpatrik, Coldcut, David Morales, Darius Syrosian, Hannah Wants, Roger Sanchez, Sam Divine, Sister Bliss, Stanton Warriors plus BBC Radio 1 Newsbeat hosting a talk on sustainability in the pod with BLOND:ISH and ByeBye Platsic. Other parties took place at some of Brighton's best loved venues.