Free Your Mind, one of the Netherlands' most respected and longstanding festival brands, is returning to Breda next Kingsday, celebrating the King's birthday with who's who of titanic techno talent.
Headlined by Dutch fan-favorite Reinier Zonneveld, the event is set to takeoff at Breda International Airport on April 27, 2023 as the biggest single stage techno show ever, promising to bring fans to a brand new stratosphere of raving bliss.
With Free Your Mind celebrating its 20th anniversary in 2023, it makes sense that the festival brand has its sights set higher than ever. From Kingsday's afternoon until night, Free Your Mind will be setting Breda International Airport ablaze, featuring a lineup that is decked out from top to bottom.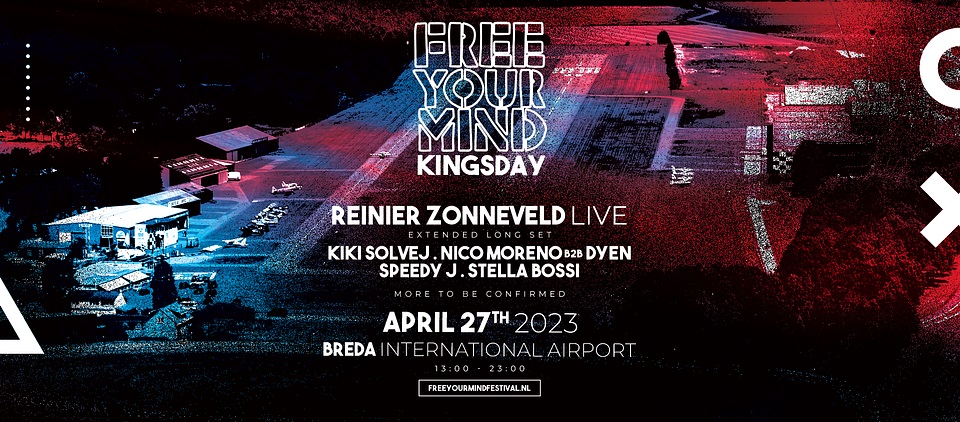 While leading Dutchman Reinier Zonneveld is set to close out the night with a four-hour energy-infused live performance, those in attendance will also be treated to the raucous-inducing sets of Kiki Solvej, Nico Morreno b2b Dyen, and the timeless beats of Dutch producer Speedy J.
Fans from outside Breda can rejoice as well, as Free Your Mind is planning a large-scale shuttle bus network to help transport fans from cities across the Netherlands.
Free Your Mind: Kingsday is the second event announced for 2023, following the Free Your Mind Festival Weekender, which is taking place at Stadsblokken Arnhem on June 3 and 4 and many more to be announced!