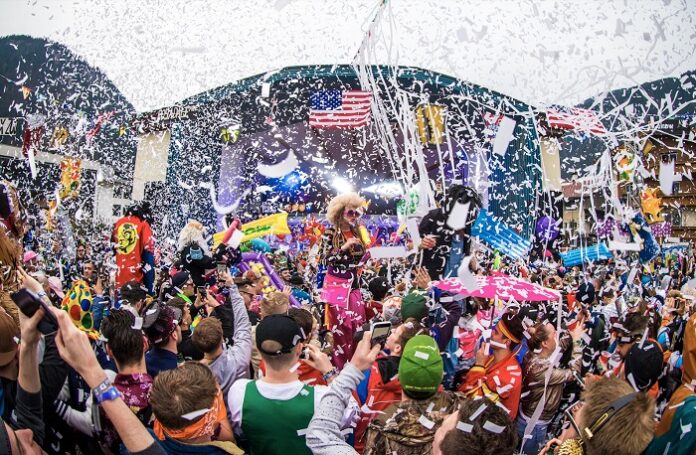 Welcome to Snowrow! For the first time in history, elrow, the most important global immersive brand in the world comes to Andorra. One of the most important global electronics brands, which has created unique experiences in more than 40 countries, makes its debut at Grandvalira for the first time with a four-day festival.
An experience never lived before in Europe; a four-day project of music and sports in the heart of Andorran nature, Snowrow is the result of the union between Grandvalira and elrow, with the idea of offering both young people and families entertainment in its purest form in the most magical and idyllic of settings. The festival will start on March 30 and end on April 2 and the place chosen for this meeting of rowers, music lovers and athletes, are the Grau Roig and Pas de la Casa sectors of the Grandvalira station.
This adventure has a program full of interesting proposals for the little ones, young people, parents and friends to enjoy. Each day will begin with a diversity of activities; some of them free and others for a fee, held on the slopes and in an exclusive festival location for 8,000 people.
Here's what Juan and Cruz Arnau, founders of elrow had to say about Snowrow:
"We are extremely motivated and delighted with this new project that we are launching as a novelty for 2023 for all audiences. We had been looking for the perfect place to carry out this new format for some time and thanks to Andorra, Grandvalira and the Viladomat family we are happy to announce our first great adventure in the snow, a festival format that mixes activities for families, children, young people and adults to offer something never seen before in the snow"
Snowrow is a complete experience for 8,000 people that will take place in different areas of Grau Roig and Pas de la Casa.
"We never stop innovating, creating and thinking about new products and Snowrow was a dream that thanks to Grandvalira and their trust we will be able to realize this coming March. The idea is that young families with children come to spend four days with us and have everything types of activities to enjoy in the snow and also offer our regular customers a new adventure with a completely different festival", add the Arnaus.
Snowrow will open its doors at 4PM. Secure your ticket HERE!