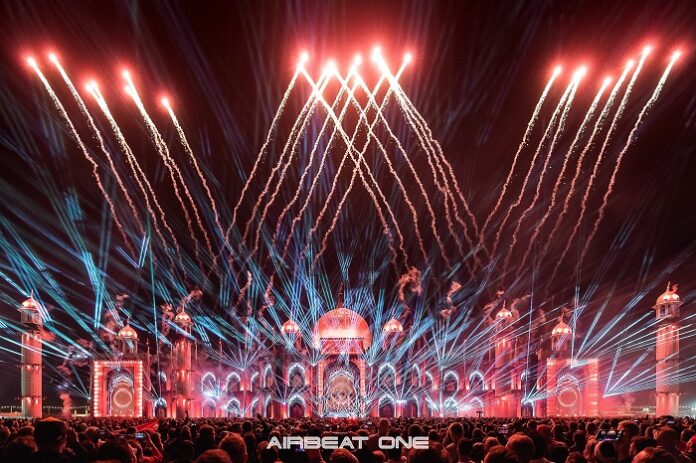 Boris Brejcha, Brennan Heart, Claptone, Headhunterz, Paul van Dyk, Scooter, Steve Aoki, Timmy Trumpet and many more – The electronic mega-festival announces the first 25 acts for 2023.
A brilliant 20th anniversary of the AIRBEAT ONE Festival with 300 of the best DJs and acts is coming up on July 12-16, 2023. The four-day open air event at the airfield in Neustadt-Glewe in Mecklenburg-West Pomerania bears the motto "Edition Home – Germany" and will be a bombastic setting for a groundbreaking event production. The AIRBEAT ONE has long since become a global player and plays as an event worldwide at the very top. Now the makers of the festival announce the first 25 acts for next year and they already are awesome!
The "Mainstage" every year is the epochal showpiece of the AIRBEAT ONE Festival. With gigantic dimensions of up to 180 meters wide and 50 meters high, it is the absolute eye-catcher, elaborately designed with absolute attention to detail. The world's best DJs and producers are set to perform here. True to the motto "Edition Home", however, the first blockbusters come from Germany: Boris Brejcha, Neelix, Paul van Dyk, and Scooter. The AIRBEAT ONE Mainstage has always been a meeting point for the top 10 from the renowned DJ Mag Top 100 ranking and that's the reason why it should not come as a surprise that Steve Aoki and Timmy Trumpet are set to perform for the lucky attendees in 2023.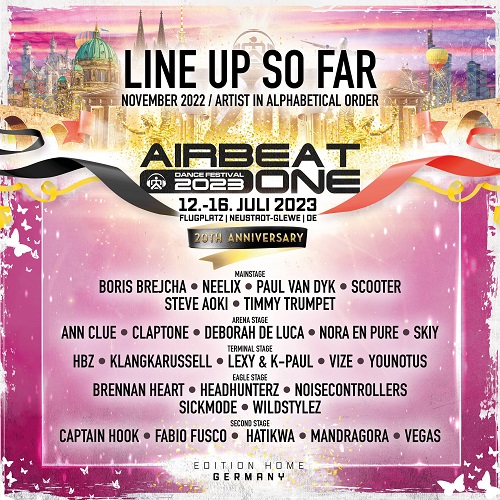 The music at AIRBEAT ONE is as diverse as the festival itself. From EDM to Trance and Progressive – from Hardstyle, Hardcore and Gabber to Techno, Minimal, House, Psytrance and Goa. Every lover of electronic sounds will find his floor here. The Arena Stage, which was added only a few years ago, stands for techno. And here, too, German techno artists determine the happenings in the line-up so far: Anne Clue, Claptone and SKIY. From Italy Deborah de Luca joins and from Switzerland the Deep House Queen Nora En Pure.
So far, the colors black, red and gold have been shining almost exclusively above the Terminal Stage. HBz, Lexy & K-Paul, VIZE and YouNotUs. With Klangkarussell a producer duo from Austria comes to Neustadt-Glewe.
The line-up on the Hardstyle stage is looking absolutely international so far. Some of the big icons of the scene have already announced themselves: Brennan Heart, Headhunterz, Noisecontrollers, Sickmode and Wildstylez.
Last but not least, the first artists for the Second Stage are ready. With Captain Hook, Fabio Fusco, Hatikwa, Mandragora and Vegas, illustrious names from the Goa and Psytrance scene will join the November line-up.
This anniversary should not be missed by anyone. Tickets? They are available already. The 3-day ticket costs 149.99 euros in pre-sale phase 1. For 100.00 euros more, you can be a VIP guest at the birthday (249.99 euros).