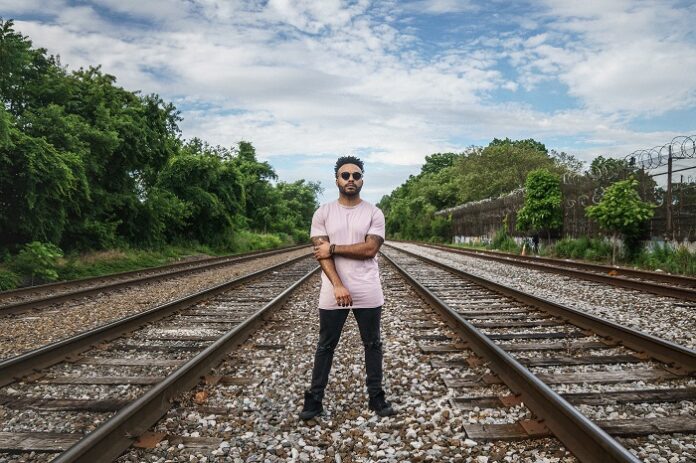 2023 is approaching and what better way to welcome it than to remember the main highlights of the past year. Music, unique milestones and new projects are some of the things Salvione experienced in 2022.
We invited him to talk more about what this past year meant, what he learned and what are his plans for the holidays.
Hi, thanks for taking the time to talk to us today. 2022 is almost over, we want to know what is your most important highlight of the year, both musically and personally?
Hi, it is my pleasure. Thank you for having me. Personally, my most Important highlight of the year was that I got engaged in May. My fiancé is one the most amazing people I've ever met. She's there for me through all of the ups and downs of my life personally and in my music career. She's my number one supporter and continues to push me to be better each day. I have to give her credit, I think about and talk about music constantly and she's the real MVP because I know she listens even when she probably doesn't fully understand what I'm talking about but she knows it excites me.
Musically, my highlight of the year would be starting my brand Elevate which is aimed at raising the overall vibration of the House music community, through music. It includes a weekly newsletter, Elevated Radio that is broadcasted in on 8 stations in 7 countries and has 600k+ weekly listeners plus a music production coaching program.
What was your favorite release of 2022 (of your own)?
I actually did not release any music of my own this year. I spent the year honing my sound and developing my music production coaching program as well as engineering for Danny Tenaglia who's track 'The Brooklyn Gypsy' came out on Nervous Records and topped the charts on both Beatport & Traxsource.
And what was your favorite track of the year from someone else?
This is a tough one as so much great music came out this year but one that is really sticking out in my mind is the new one 'Take Me' by Martin Ikin and Joshwa. It is a great use of a sample and it just hammers when the groove comes back in. I played it a few weeks ago in Costa Rica and it went off. I actually had to take a video of the crowd while it was playing because they were loving it so much.
Did you have any special standout shows this year either that you played or attended?
My special standout show for the year was definitely last month at Antik in Costa Rica. It's one of my favorite places to play. It reminds me of the New York underground scene in my early years of clubbing. It is a low ceiling, simple room with a Funktion-one and the crowd is one of the best. They are there to have a great time and we rocked into the early morning with a full room. We definitely created magic together that night.
What was the biggest lesson you learned in life 2022?
The biggest lesson I learned in life in 2022 was that everything works out exactly how it's supposed to. The universe is working for you. You shouldn't stress and try to force life to be how you think it should go. Take the pressure off and let the journey guide itself. I learned to surrender both in life and even while making music.
And following on, what was the biggest lesson you learned in music?
I think the biggest lesson I learned in music this year is that no one is going to come knock on your door with a gig just because you make a great tune. If you want to get bookings you have to take it into your own hands and that's what I did. It feels really good to be in charge of my career.
If you could send yourself a message to you 5 years ago, what would it be and why?
"Just keep going. I know it's tough and you feel like you're working really hard and not getting anywhere, but just keep going. 5 years from now, you are going to do things you couldn't even dream of at this moment."
I would send this message to myself 5 years ago because I was waking at 5am to make music and giving it everything I had but the breaks were not coming. But it was those years and all of that hard work and dedication that has led to the successes I've had.
How has your sound developed in 2022?
I feel that I really have honed my sound this past year. I think the way it has developed the most is that it's consistent. I used to make many different styles of music but I now know what my sound is and I'm really comfortable with where I am right now sonically. I've found the sweet spot of upbeat, fun, driving music with a touch of Soul and Funk that is made for the dancefloor but you can also enjoy it at home.
Who would you say was the most innovative artist in 2022?
I really like what Shermanology brings. I think it's different from what others are doing. I find their sound refreshing.
Which label or labels do you think where at the top of their game in 2022?
There has been some amazing music out this year but I would say Snatch! Records has been really delivering and so has Night Service Only, especially being a newer label and from NYC I have a lot of love for them. I also think that 303lovers, Baikonur Recordings, and La Pera records have been at the top of their game as well. I'm very impressed with all of these labels this year.
If any, do you have any regrets for the year behind us?
I don't have any regrets for anything in life. There are always lessons to be learned in everything. Even if something doesn't work out, there is always something bigger and better on the horizon. You just have to trust and surrender.
What are your plans for the holidays?
I spend the holidays with my family. I bought the house next door to the house I grew up in and my grandparents still live there so I just walk across the lawn. It's a fun time with lots of laughs, great food, and people talking over each other.
Just for fun, if you had to take a classic Christmas song and remix it, what style would it be and what could we expect?
I would have to go with Bruce Springsteen & the E Street Band's version of 'Santa Claus Is Coming to Town'. I would definitely rework it into a roller of a Tech House track. Santa would be dancing into town for sure, hahaha.
Where will you be spending New Year's Eve?
I haven't totally decided. Since I was a teen, we would typically spend New Year's Eve with the family and then head out to one of the parties in NYC in the early morning. I suspect a similar outing this year.
If you had to put 2022 into one sentence, what would it be?
On New Year's Eve 2021, I told my fiancée and my best friend that I really felt that this year was going to change everything and it didn't disappoint. So, to put 2022 into one sentence I would say that 2022 was life changing.