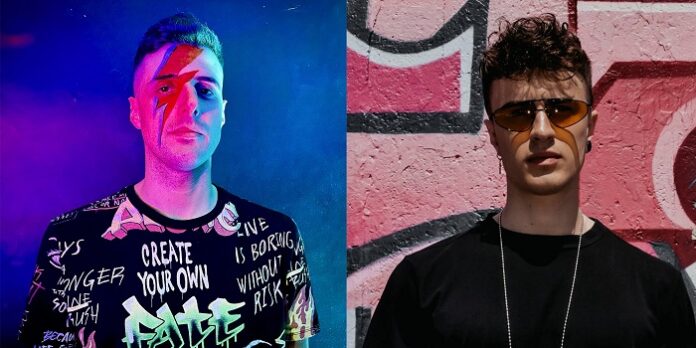 We're ready to welcome 2023 in the best way we know how, with music and new projects. Manu P. & Federico Rosa took some time to chat with us and told us more about what lies ahead for them in this exciting new year.
Check out the interview below!
Hey, 2023 is here and we'd like to know what are your hopes for this year regarding your music career?
Manu P: Hi, for this year I would like to increase the events regarding my brand The Cage and do a couple of dates in places I've never played before.
Federico Rosa: The hope is that my next releases do well on the charts and land support from international DJs. Aside from a full touring schedule of course…can't have too many  gigs haha.
What are your top 3 resolutions for this new year?
Manu P:
– Being myself without negative influences that are always around the corner.
– Make at least 3 music releases.
– At least being able to talk to the founders of one of the biggest European festivals.
Federico Rosa: The first is probably the most important, MINDSET, never take your eyes off the target. Second is to release more great tracks with top labels and lastly, more live gigs as a guest.
Do you have any releases in the pipelines for the upcoming months?
Manu P: Yes, it will come out on my label The Cage Music, on Happy Techno and then we'll see.
Federico Rosa: In Mid-January I have a release coming out on Material and then in February another with my buddy Manu P. on The Cage Music and we've got another one together in March on Happy Techno.
If you could pick any event, any stage, any place: where would you like to perform in 2023?
Manu P: ELROW
Federico Rosa: ELROW is my dream, and to tour internationally, abroad.
And following on from that, if the world was your oyster for selection, who would you like to collaborate with this new year?
Manu P.: Elrow again.
Federico Rosa: I'd love to collaborate with artists like Cloone, Michael Bibi and HUGEL.
Are there any new hobbies or activities you'd like to try in 2023?
Manu P.: Honestly the mtb is enough for me.
Federico Rosa: Not really, I enjoy training at the gym.
Are there any new skills or new gear that you'd like to implement to your studio in 2023?
Manu P.: New console with DJM-V10 and CDJ 3000.
Federico Rosa: I'd like to add the new DJM-V10 Pioneer in my DJ set up and in the studio. I'm considering adding something analog, which I feel can help with my creativity.
From a production standpoint, what would you say is the number one area you would like/need to invest time into in order to develop your production level?
Manu P.: I think I've never been at a great point for productions, so I'd invest in everything.
Federico Rosa: Considering there's always something new to learn and improve on, it's difficult to define the number of hours to dedicate to production on a daily basis. It's all about practice, you could say 6 to 8 hours a day, to be then able to come up with a top track in a few hours.
Any new genres you'd like to explore next year?
Manu P.: No.
Federico Rosa: I'm looking to get closer to the Mininal Techno scene.
New sub-genres come and go into fashion every year, what are your predictions for 2023?
Manu P.: All sub-genres come from House and Techno. it's just a different mix.
Federico Rosa: Tech House is becoming more commercial and will be played more by mainstream DJs. On the other hand, I think Mininal Tech will make headway within the underground scene.
Besides yourself, which artists or labels should people follow this year?
Manu P.: For artist, Marco Tropeano and for label, I love Trick Label
Federico Rosa: Artists like VLTRA and Marco Tropeano are definitely on the rise, and on the label side, I'd say Solid Grooves…they're having continuous success at the moment.
Make a prediction for 2023 about the world or music and we'll try and catch you this time next year to see if it came true!
Manu P.: I think there will be a return or increase of people listening to Techno music. I'm also seeing it in clubs that offer commercial music.
Federico Rosa: I hope to start playing more abroad this year!
Do you have a message for your followers for new year?
Manu P.: In Italian: LO SHOW CONTINUA !!!
Federico Rosa: Keep following me and you'll be in for some great adventures!