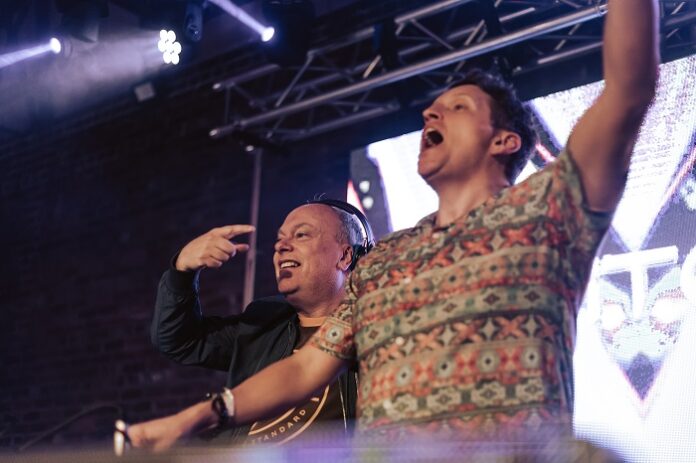 We're ready to welcome 2023 in the best way we know how, with music and new projects. Trimtone took some time to chat with us and told us more about what lies ahead for them in this exciting new year.
Hey, 2023 is here and we'd like to know what are your hopes for this year regarding your music career?
To keep progressing with our productions with Trimtone, with some big new tracks dropping on some major labels. We also have a big touring schedule planned taking our sound to USA, Australia, Ibiza, Portugal, Barbados and around the UK in 2023. Our Love to be… brand will be expanding with the Radio Show (Love to be…Global Connection) aiming to double our reach to over 15 million listeners as we currently are broadcasting the show on over 100 stations in over 30 countries.
We will also be building a team to push our events and record labels Love to be…recordings, Trimtone Records and Funkylove onto the next level.
What are your top 3 resolutions for this new year?
– Expand our DJ tour into territories that we already cover with our radio show, Australia and Miami watch out!!
– Develop new talent to work alongside, we have some amazing vocalists lined up to work with.
– Keep our production output at a high level and build upon the industry accolades, such as being voted one of the Traxsource top producers of the year, that we attained this year
Do you have any releases in the pipelines for the upcoming months?
Yes, we have quite a few Trimtone releases planned for 2023. The huge "I Belong to U" is dropping on Peppermint Jam in January. The first quarter in 2023 also see us release "Promises" on Cruise Records, "Together" on Onako, "Like Jazz" and "Bass Boy" on Chuggy Traxx and a transatlantic release with "I Can Feel the Music" on Chicago based label Dubstar along with a remix for Dallas based Juiced Music.
We are just putting the finishing touches on a release on Wh0 Plays. We also have collaborations on the way with Dan:Ros, DJ Threejay and Patrick Wayne Hiast, Folkness and Dan Laino. Also keep an ear out for a few releases dropping regularly on our Love to be…Recordings and Trimtone Records labels.
If you could pick any event, any stage, any place: where would you like to perform in 2023?
Defected Croatia would be on our wish list for sure… The vibe looks unreal!!
And following on from that, if the world was your oyster for selection, who would you like to collaborate with this new year?
We have a few collaborations under way, as mentioned before, but we will be reaching out to our co-hosts, David Morales and David Penn on the Love to be… Global Connection radio show to hopefully collaborate in 2023. Those guys are at the top of their game and our list for sure.
Are there any new hobbies or activities you'd like to try in 2023?
Dancing lessons wouldn't go a miss based on our antics in the DJ booths around the world in 2022!!
Are there any new skills or new gear that you'd like to implement to your studio in 2023?
Having just moved into our new studio recently, we are planning to build a new vocal and recording booths to work with some of our new found talent. So mics, cabling and acoustic treatments are top of the list.
From a production standpoint, what would you say is the number one area you would like/need to invest time into in order to develop your production level?
There is always something new to learn in the studio with new software and hardware becoming available and we always like to integrate new techniques in our productions to keep them fresh. As mentioned before, working with vocalists and musicians at our studio is an area we will be investing in, which in turn will help us progress and have more control of our output.
Any new genres you'd like to explore next year?
We play a broad spectrum of House in our sets and this is also reflected in our productions, so we are always open to integrating new sounds, samples and ideas. The more diverse the better!! Alongside our Trimtone endeavors, we oversee a business that sources work for local based artists and we have some amazing jazz musicians on the books so expect a few jazz flavas on the way in 2023.
New sub-genres come and go into fashion every year, what are your predictions for 2023?
With tracks such as LF System crossing into the mainstream, the energetic sample led sound is on the rise. Also, samples and sounds from the heyday of the US house sound in the 90s will continue to break through. Both sounds we absolutely love so expect plenty of that from us.
Besides yourself, which artists or labels should people follow this year?
Wh0 and Selena Faider, who we work with closely, are ones to watch for sure.
Make a prediction for 2023 about the world or music and we'll try and catch you this time next year to see if it came true!
Finally, the hoverboard will get off the ground and music-wise watch out for breakthrough artists becoming younger. The youth of today/tomorrow will have lots to say!!
Do you have a message for your followers for new year?
Thanks for all the support in 2022 and we hope to catch you on a dancefloor or radio station near you very soon. Keep an eye on your favorite download stores for us as we hope to bring you some big tracks in 2023. Keep dancing!!