Techno giant Reinier Zonneveld heads into 2023 in monstrous style with the release of his fierce remix of D-Devil's iconic hard trance classic 'Dance With The Devil (The 6th Gate)', out on Zonneveld's own Filth On Acid imprint.
Ramping the techno up several notches, Reinier presents one of his paciest, toughest tracks yet, bordering on the intersection between techno and hardcore. He includes all the charms of the original, such as the campy, scary spoken vocal that brings classic video games and fantasy films to mind and the manic, distorted bleepy riff, and fires a rocket up them.
The track builds through galloping bass and pulsing offbeat bass, with the dramatic synths of the original gradually building an intense mood. It's one hell of a punishing track, and a very fine update of a hugely colourful moment in dance music history that's now ready to greet new generations with its fiery energy.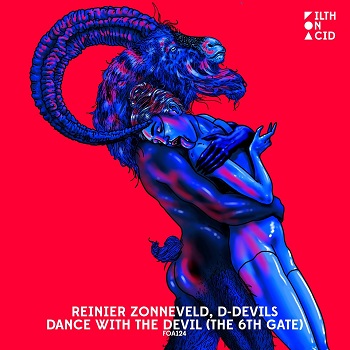 The start of this year will see Reinier travel to Australia for a tour, headlining the prestigious Sidney Myer Music Bowl on February 19 among other dates. Summer will see him play every major festival in the US, Europe, South America and beyond, following on from a 2022 in which he played highlights including an 11-hour solo set at his sold-out Live NOW festival — at which he was the only artist on the lineup. His Filth On Acid label continues to do a roaring trade, supporting the hottest new talents in the scene as well as giants like Carl Cox, with a packed release schedule for the year ahead.
Following on from the release of 'Oldskool', HI-LO collabs 'Samsara' and 'Nirvana' and his massive remix of Mau P's 'Drugs From Amsterdam', 'Dance With The Devil' (The 6th Gate) is set to be another smash for him. Reinier's remix of 'Dance With The Devil' is available exclusively on Beatport on January 27th and on all other platforms on February 10th.
Listen to the track below.