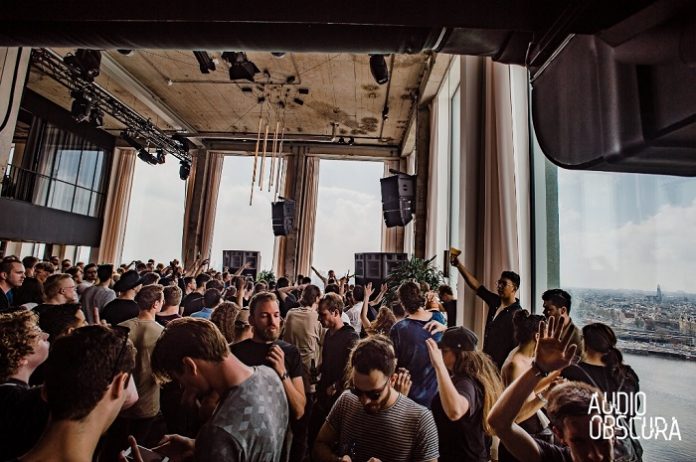 The Amsterdam-based promotor goes full circle, bringing Kölsch, Anfisa Letyago, Len Faki, Carlita & DJ Tennis, Âme & Jimi Jules, Eelke Kleijn & many more The Loft in A'DAM Tower from April 7 to 10.
Amsterdam's visionary Audio Obscura events promoter has announced their first ever Easter Weekender, inviting fans from across Europe to The Loft in A'DAM Tower for three days and four nights of house and techno bliss. The venue isn't only one of the marquee locations that have helped establish Audio Obscura for the innovative space-seekers that they are, but stands tall as one of the city's most coveted locations, overlooking Amsterdam from a staggering 16 stories high.
With acts like Kölsch, Len Faki, Anfisa Letyago, Carlita, DJ Tennis, Eelke Kleijn and Âme already confirmed (and many more to be added), this signature spring celebration is sure to sell out fast.
Longtime fans of Audio Obscura events will know that The Loft has been a key player in their growth. With the very first of their joint events taking place in 2016, Audio Obscura has effectively reset the agenda for the world-famous Dutch music scene, asserting innovative locations and the narrative of local culture into the ethos of the already-vibrant scene.
Perched 16 stories up, The Loft has called itself home to Audio Obscura's breathtaking sunrise and sunset shows, where they've hosted a who's who of acts including Sven Väth, Peggy Gou, Solomun, Tale Of Us, Adriatique, and Job Jobse to name a few.
By introducing last night's sunset ravers with the incoming attendees for the following morning's sunrise sets, Audio Obscura's distinguished parties at The Loft don't only flip a seemingly elegant hotel room inside out, but they were the first ever promoters to create one of the industry's most spirited live atmospheres at this unique venue. Now with their most ambitious endeavour at the venue just months away, Audio Obscura is pulling out all of the stops to create an experience that is as memorable as it is intimate.
Find the current lineup below (more t.b.a.):
April 7: 16.00 – 00.00 – Kölsch
April 8: 07.00 – 14.00 – Anfisa Letyago
April 8: 16.00 – 23.00 – Len Faki house set + Fafi Abdel Nour
April 9: 07.00 – 14.00 – Carlita & DJ Tennis
April 9: 16.00 – 23.00 – Âme & Jimi Jules
April 910: 16.00 – 23.00 – Eelke Kleijn
Pre-Register open until Tuesday February 28
Pre-Sale starts Wednesday March 1st, 12.00 Noon CET
Regular Sale starts Thursday March 2nd, 12.00 Noon CET
The Easter Weekender is the next step in Audio Obscura's groundbreaking 2023, following the announcement that they will be throwing their very first event beyond the borders of Amsterdam. Just days after their Easter celebration, Audio Obscura is heading to Rotterdam, keeping in line with their astounding theme of presenting the world's best acts in the most unique locations by bringing none other than Black Coffee to the Van Nelle Fabriek, which has been considered a UNESCO world heritage site since 2014.