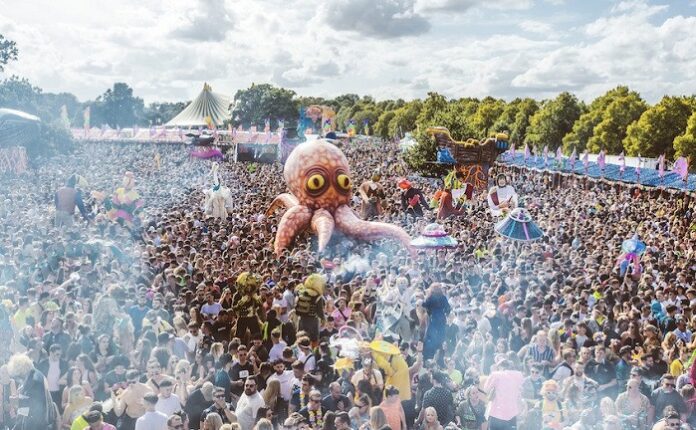 elrow Town London is quickly becoming one of the world's leading performance arts festivals. With its unique blend of music, art, and theatrical performance, the team are setting a new standard for immersive festival experiences. From the moment ticket holders enter the festival grounds, they'll be transported to a world of color, creativity, and pure joy.
With stunning stage designs, mind-bending performances, and the hottest music acts around, elrow Town London is a celebration of all things vibrant and eclectic. Add 200 incredible performers, including dancers, acrobats, gymnasts, and seasoned stand-alone performers with stunning costumes, vibrant colors, and an engrossing atmosphere, this one off event is a true celebration of music and performance.
The team will be showcasing three brand new themes this year, which are set to take the party experience to a whole new level. There's something for everyone, from time-traveling to a parallel world with Nowmads to experiencing the rabbit-hole utopia of Delusionville and even competing in the ultimate Rowlympic Games.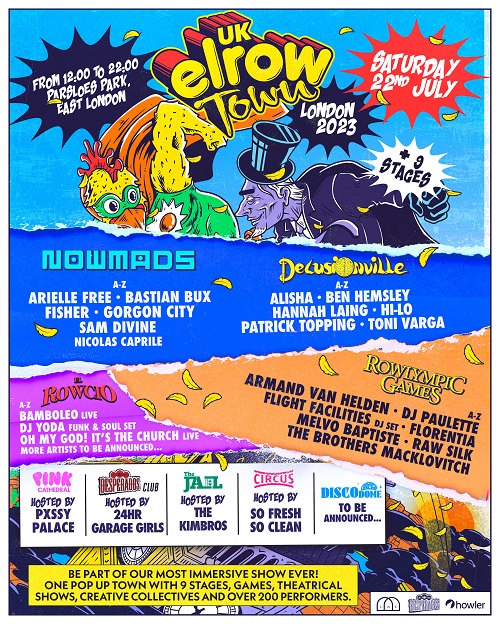 The first wave of elrow Town London 2023 artist announcements is here, the team are thrilled to announce that Fisher, the world-renowned artist and producer, will be performing at the UK version of the festival for the first time. Prepare for an electrifying and high-energy performance on the Nowmads stage that will leave little space for anything else.
The dynamic duo Gorgon City will be joining Fisher on the lineup for an exclusive performance, bringing their unique blend of bass-driven house music and addictive vocals to get the crowd moving alongside Patrick Topping, one of the most talked-about DJs of this generation, will be serving up his signature flow and dancefloor hits on the Delusionville stage to keep the party going strong.
Last but not least, the legendary Armand Van Helden will make his debut at elrow Town London. This legendary DJ and producer has been a force in the dance music scene for decades, and his performance at the Rowlympic Games stage is not to be missed.
Alongside the above, also announced are The Brothers Macklovitch (A-Trak & Chromeo's Dave 1), DJ Yoda (funk & soul set), Raw Silk, DJ Paulette, Toni Varga, Bastian Bux, Nicolas Caprile, Ben Hemsley, Oh My God Its The Church (live) Bamboleo (live), Alisha and Florentia. With over 25 more artists to be announced and many more surprises in store, prepare to be dazzled by this year's event, where together elrow makes magic happen.
The festival promises to deliver an unforgettable experience that combines the best of music and entertainment. General admission tickets for the event, which will take place on July 22, 2022, at Parsloes Park in East London, are now on sale. Prepare to be swept away in a whirlwind of excitement at this year's only elrow Town event in the UK.