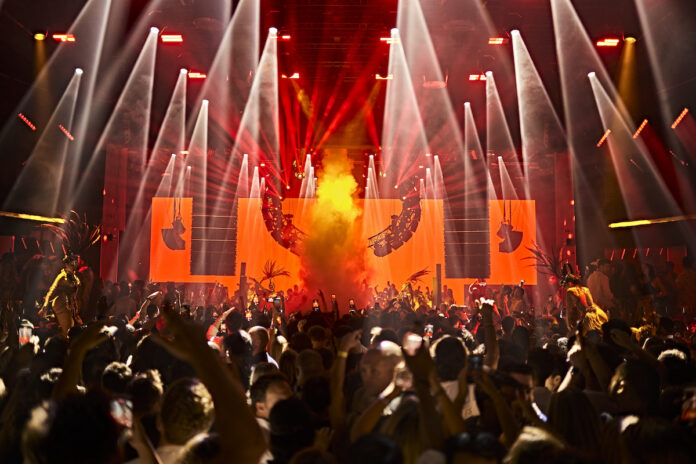 Global house ambassador and GRAMMY-winning artist Black Coffee returns to the Hï Ibiza Theatre this summer, taking over Saturdays from 27 May to 30 September. The Club room will once again be hosted by Damian Lazarus, reuniting the formidable partnership that made Saturday nights at Hï Ibiza one of the island's most sought-after tickets last summer.
Today, Hï Ibiza announces the cutting-edge selection of electronic music artists set to join them at the world's no. 1 club. Once again they come from the vanguard of electronic music and represent the underground in true style.
South African Black Coffee now has a long and rich history with Hï Ibiza. Together they have become renowned for offering one of the most unique parties on the White Isle each summer and this year will be no different as the Afropolitan house pioneer heads things up each week with his own mesmerising mix of emotional, dynamic grooves.
For the opening party on 27 May, Black Coffee will be joined by the cultured Turkish sounds of Carlita playing back-to-back with Italian Life And Death boss DJ Tennis. Watch out for performances from fellow Hï Ibiza residents and house mainstays The Martinez Brothers (24 Jun), South African selector Themba (Jul 15), all out techno from TSHA (Jul 22), the original DJ rock star and genre-defiant legend DJ Harvey (Aug 19), classy party starter Jayda G (Sep 2), neapolitan tech titan Marco Carola (Sep 9), and tech house maverick Michael Bibi (Sep 16).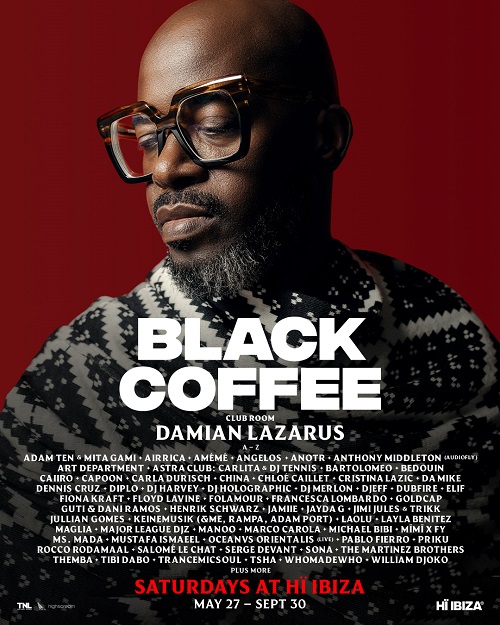 The 19-week-long season also brings innovative Danish experimental pop trio WhoMadeWho (10 Jun), the deeply emotional sounds of Innervision's artist Henrik Schwarz (Jul 1), the voodoo house magic of Bedouin (Jul 8), melodic house duo ANOTR (Aug 5), the colourful disco house of Folamour (Jul 29), a back-to-back between Jimi Jules and Trickk (26 Aug), and Berlin house collective Keinemusik (Sep 30).
Add in the likes of Afro house specialists Angelos, Caiiro, China, DJ Merlon, Sona, Fiona Kraft, Floyd Lavigne, JAMIIE, Pablo Fierro, Salomé Le Chat and Trancemicsoul, along with Manoo, Rocco Rodamaal, Djeff, Jullian Gomes, Ms. Mada, William Djoko, and more, and you have a scinillating summer of music lined up.
Damian Lazarus excelled with his first residency at Hï Ibiza last year as he transformed the Club Room with immersive production and mesmeric visuals to craft an otherworldly experience. Back to repeat the musical magic this year, he kicks off the season with a special extended set on 27th May before being joined by an array of special guests throughout the residency.
June brings performances from artists including Spain's Tibi Dabo, new school house talent Layla Benitez, eclectic DJ-producer Goldcap, and edgy house selector Serge Devant. Watch out for Major League DJz in July, along with Romanian minimal maestro Priku, Detroit's one-woman funk machine DJ Holographic, a back-to-back set from Adam Ten and Mita Gami, Amémé and plenty more.
Art Department arrives in August, along with a live show from Oceanvs Orientalis, hit-making creative powerhouse Diplo, and techno mainstay Dubfire playing a special back-to-back with Damian Lazarus. The rest of the month brings innovative house and tech from Dennis Cruz, Guti b2b Dani Ramos, and the hypnotic melodies of Bedouin.
It all ends at the Closing Party on September 30th when Chloé Caillet, Audiofly's Anthony Middleton and Bartolomeo all line up. All this plus performances from acts including Airrica, Capoon, Carla Durisch, Cristina Lazic, Da Mike, Elif, Francesca Lombardo, Guti & Dani Ramos, Maglia, MĪMĪ x FY, Mustafa Ismaeel, and Sona amongst many more across the season.
Last but not least is Wild Corner, the renowned unisex toilets with a DJ booth. Its unique and unexpected clubbing experience and top soundtrack from Ibiza favourite Paul Reynolds make it one of the most essential spots to visit for curious clubbers.
With world-class residents, carefully curated lineups, state-of-the-art design and pioneering sound technology, Hï Ibiza's 2023 season will showcase the club's continued dedication to evolving the clubbing experience on every level. Visit Hï Ibiza's official website to book tickets and discover the latest news and events from the world's No.1 club.