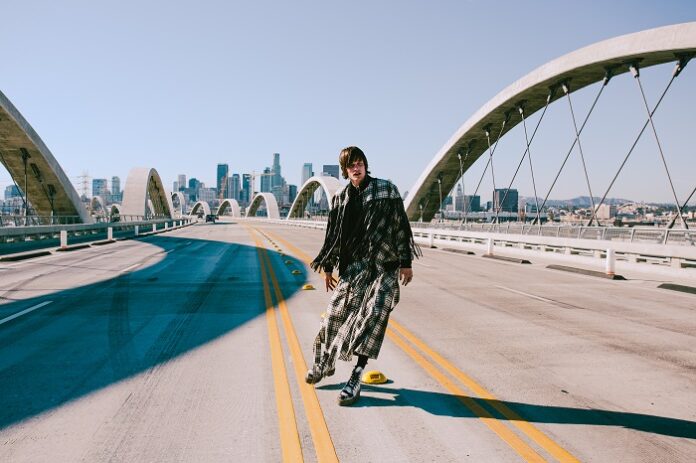 Having cultivated his signature sound for more than a decade, LA-based artist Isaiah Brown is climbing to the top of the music world. The renowned singer-songwriter has already racked up 5 million-plus streams on Spotify alone, while delivering performances at HARD Summer, venues throughout the west coast and Texas, and a series of web3 concerts.
Since his emergence onto the scene, Isaiah has collabs with numerous popular EDM acts, such as Bonnie X Clyde, James Kennedy, and Pixel Terror.
After dropping his inaugural LP, DREAMERBOY, at the end of 2022, Isaiah's project has reached a new level. Now, he is spreading his influence over listeners further with the release of his music video for "Me & U", one of the most entrancing songs from the album.
The video wastes no time in transporting its audience on a psychedelic adventure, kicking off with distorted colorful visuals. This short film and the auditory half of "Me & U" work together to highlight an emotional story.
Isaiah's mystifying vocals and the exotic trap-like beat overlap with the video's captivating shots to convey that love can be channeled to help overcome any challenge in life.
"Me & U" is far from the first inspiring single that Isaiah has forged and will definitely not be the last. With upcoming projects and shows in place for 2023, the genre-bending Isaiah has an exciting road ahead.
Listen to the track below.
Check out the interview below!
Based on the artwork in your releases and social media, you have an amazing sense of fashion. What are your top fashion trends right now and how do you use fashion to showcase your personality?
I think fashion is a great way to convey your overall vibe and energy as a person. It can also establish whatever mood a person is in as well which is something I love to utilize. If I'm ever feeling like hiding from the world, you'll see me out in baggy clothes and sunglasses covering me up looking like I'm about to go snowboarding or something haha.
But most times, especially when performing, I like to wear tighter, big outfits that give my audience a lot to look at/pick apart. Most of my fashion comes from pieces I've collected over the years, and a few of my inspirations for trends are ASAP Rocky, Billie Eilish, Travis Scott, and Ye (depending on what mood he's in as well lol.)
What do you love about performing for web3 and online shows? How do you think bridging live music with web3 has opened new opportunities for both industries?
I love the ability to bring the intimate performance kind of setting in the Web3 space. Doing online performances like that allow a new sort of personal fan access to the artist, where I would perform in my home/studio. This can show my supporters a more in depth look at my day to day life and environment.
I'm absolutely looking forward to doing more online shows in the future and getting creative with location and stage setup/production. Web3 also gives fans who otherwise wouldn't be able to experience my live show the ability to attend – which I think is beautiful, granted that my concerts/tour tickets typically cost more than it would to watch a performance online.
What are your pre-set and post-set rituals when it comes to performing at in-person concerts and festivals?
As a firm believer in God, the Universe, and spirituality – my pre and post show rituals consist mostly of prayer and meditation. Before I do anything else, I make sure to spend at least 10 minutes prior to my performance to simply sit still with no distractions around me and just breathe.
This gives me the space to also visualize my connecting to the audience and allows me to ask God for protection and guidance when conveying my art/message. In some cases, I like to also say a prayer with my team that brings a wall of protection around all of us as we enter into the environment.
Once I feel centered, I like to throw my catalog on a speaker and do a mini exercise, such as jumping around/dancing/doing planks, sit ups, and push-ups. Getting the blood flowing is crucial to having good energy on stage and my pre-show ritual gets me going every time. As for after, I also like to spend at least 5 minutes thanking God and the Universe for the opportunity to perform and the blessings in my life. The vibration/frequency of gratitude not only humbles you but also opens you up for more abundance.
How does it feel to be able to perform at flagship events like HARD Summer? Which of your songs do you think usually receives the best crowd reactions?
Performing on a massive festival stage for huge production events/concerts is like no other feeling in the world. I love the ability to run around the stage and I do my best to connect with each member in the audience. The better I can get everybody in the crowd on the same vibe, the more fun we have as a collective.
I honestly haven't performed enough of my catalog on a stage like that (yet) to know what gets the crowd going most, but each song has its own purpose. The up-tempo dance music gets everybody moving, but my slower (deeper, moodier) records can put the audience in a trance. I guess I'll be able to better answer that question the more big stages I have the opportunity to perform on.
What are your hobbies and interests outside of music? What are your favorite spots and things to do for fun in Los Angeles?
I'm a big gamer, and adventurer altogether. When I'm not working, I like to play games on my Xbox (Assassins Creed, Battlefield, Skyrim, 2K, and lots more.) Growing up in the mountains, my little brother and I's first gaming console was the Gamecube. I remember playing Lego Star Wars, Freekstyle (dirt bike game lol,) Luigi's Mansion, and other games like that.
We migrated to the Wii after that to get more "active" as my parents recommended, as if we didn't spend enough time running around the woods as children haha. It wasn't until about age 12/13 that I got my first Xbox 360 and started exploring that realm. I remember my Dad and I accidentally playing Elder Scrolls: Skyrim until the early hours of the morning like "whoa, where did the time go?" I also love to exercise in nature, or play basketball/baseball with whatever free time I have.
What goals do you have for your project in 2023 and how do you plan on achieving them? Are there any artists you would love to collab with for the first time this year?
The ultimate goal with DREAMERBOY is to go the guerilla marketing route. I plan on releasing some sort of music video/content for each song (Please Be The One Official Video coming April 7th.) With all of the visuals in place, the goal is to take DREAMERBOY across the world, starting with a nationwide tour.