This summer marks a huge milestone for Pacha Ibiza as it celebrates its 50th Anniversary; 50 years of being the inherent pioneer of Ibiza's dance and cultural movement, and synonymous with the rise of some of the world's biggest DJs.
To celebrate, Pacha's marking another milestone with some of world's most iconic DJs, Ibiza legends Solomun and Marco Carola, who will be joining forces for the first time in history for an unforgettable back-to-back set and day-to-night party, starting at Destino Ibiza and finishing at Pacha to mark its ultimate 50th celebration party.
Pacha has played a huge role in the shaping of Solomun's career. The 'Solomun +1' residency at Pacha Ibiza started in a laid-back fashion, which saw him reposition the DJ booth into the centre of the club as opposed to the usual high podium position. A move designed to ensure he was close to the people on the dancefloor. This brought about the introduction of a never-seen-before concept: a night together with only one friend. Another first for the White Island. Since its commencement in 2013, 'Solomun +1' has long become an Ibiza household name, with +1 editions now taking place all over the world – be it Berlin, New York or Tulum.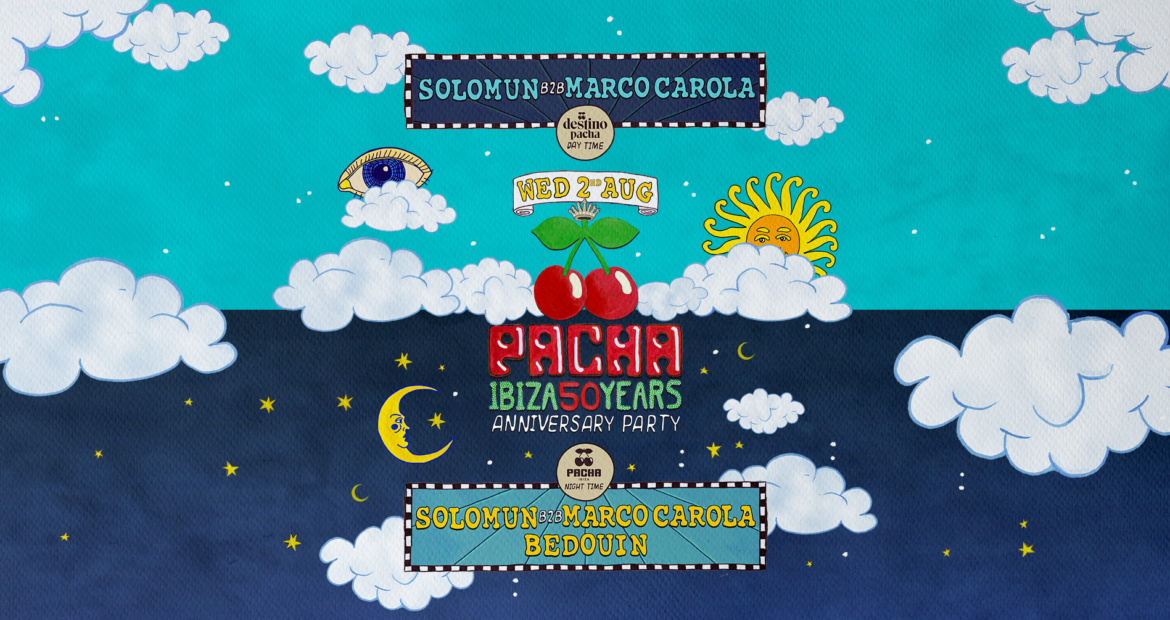 Marco Carola's name is equally synonymous with the sounds of Ibiza. As one of the most respected artists in electronic music, Carola was key in the development of the electronic scene in the early 90s as he took the thriving Italian techno scene international. Almost 30 years later, he remains one of the most loved artists in the industry with his unique three-deck style of mixing that makes him a favourite among fans from Ibiza to New York, South America and beyond.
The night isn't stopping there. Solomun and Carola will be joined by Brooklyn-based duo Bedouin formed by Rami Abousabe and Tamer Malki. The duo are regulars at Pacha, hosting a Wednesday residency – Saga – throughout the season, bringing fans melodies and rhythms that stem from their Middle Eastern heritage and Western upbringing.
Pacha Ibiza will be celebrating their 50th anniversary throughout the summer season, with several parties a week from 23rd of May to the 3rd of October.  For more information on upcoming events and to purchase tickets please visit Pacha's official website.