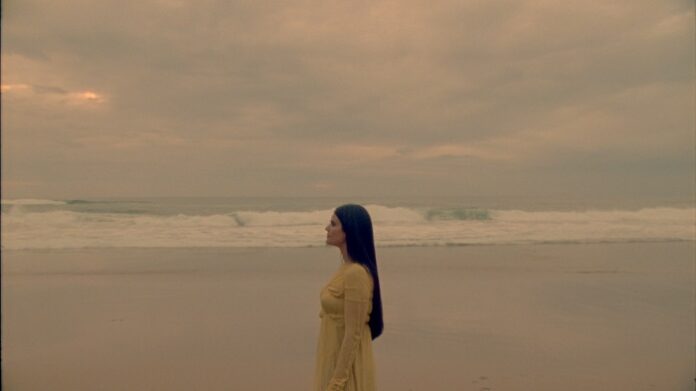 Electronic producer & DJ ANNA showcases "Journey Into Intentions", the João Marques directed short film to accompany her debut ambient electronic album Intentions. Narrated and soundtracked by ANNA herself, Journey Into Intentions follows her transformative personal journey into spirituality which led to her new ambient sound and debut album.
Shot on film in Lisbon in her studio and home as well the rugged yet staggeringly beautiful coastline of Portugal's Sintra, the film, created in the style of a visual poem, develops into an interpersonal exchange around the power of intentional living and music-making, bringing artistic fragility into focus and offering the opportunity for a deeper appreciation of ANNA's work.
Here's what ANNA had to say:
"When we initially considered creating a mini-documentary for the album, I had concerns about finding someone who could truly grasp the message of the album and effectively collaborate with it. I wanted to preserve the essence of Intentions and convey a meaningful message.
That's when I was introduced to João, we scheduled a meeting for the next day in my studio. Right from the start, we had an instant connection, as we had gone through similar experiences. This connection remained strong throughout the entire process of crafting the documentary, many times I went to an idea to João and we were surprised to find out he was gonna suggest exact the same thing.
João not only grasped the album's message perfectly but also had a beautiful way of expressing it through his imagery and art. For the soundtrack, I exclusively used the stems from the album. Witnessing the music and visuals intertwine to amplify the message of Intentions has been magical." 
A profoundly immersive listening experience, Intentions is the result of ANNA's self-realisation journey – opening her mind and forever altering her creative process and worldly outlook in the process, which sees her trading in her tougher, club-driven production for sound healing frequencies and ambient sensibilities. With her first ambient electronic album, ANNA is proving again that her music creativity has no limits.
"When Anna and I met we quickly understood that we had gone through a lot of similar experiences and realisations in the last couple of years – and I understood the message and experience she wanted to share with her album" – João Marques
Award winning director, editor and director of photography João Marques is part of a new generation faithful to cinematic storytelling and for the last few years has been shooting emotionally infused films for most of the world's leading agencies and major brands, across multiple countries in Europe, Africa, Middle East, South America and Asia.
"When I received the brief of this project, I immediately felt called to work on it. I'm deeply passionate about ambient music and really wanted to collaborate on an ambient project. The main goal of the film is to share the story of this new chapter in Anna's life, and what led her to start exploring ambient music. I wanted to create a visual representation of the different states of awareness that the listener is guided to experience through the record's intentions" – João Marques
The film's subtle tones of intimacy and empathy against the magic and mystery of Sintra on Portugal's Atlantic coast frames the transformative journey that inspired the creation of the "Intentions" album magnificently bringing such a unique musical story to life.
"I feel since the pandemic, our perception of reality was collectively deeply shattered, and a door was opened looking for a more conscious life – as someone who has been meditating for some years now, I feel that meditation, and this record can be a very helpful tool. So it was important to create this 'call' to the viewer, to dive on the experience" – João Marques
Recorded at ANNA's own Anaweh Studio, the album is a melodic and expansive soundscape merging with sound healing techniques and ANNA on flute & synth channelling her emotions. It also includes the recently released and spiritually minded atmospheric track 'I See Miracles Everywhere' which blends her inimitable electronic music savoir-faire with sound healing and her collaboration with the electro-acoustic and contemporary classical giant East Forest, 'Let You In'.
Further collaborations with legendary ambient pioneer Laraaji also feature alongside remixes by London-based electronica and techno producer Max Cooper and Ivor Novello Award nominee and Grammy Award winner Jon Hopkins.
The artwork for Intentions was created with critically-acclaimed design studio Hingston Studio, led by Tom Hingston, known for his innovative visuals for Massive Attack, Nick Cave, Grace Jones and David Bowie. Through an intense creative collaborative process, ANNA and Tom Hingston worked together to create the visual identity of intricate and delicate 3D-renders of elements in nature to give a feeling of flow.
Watch the visualizers below.
Intentions is Out Now via Mercury KX