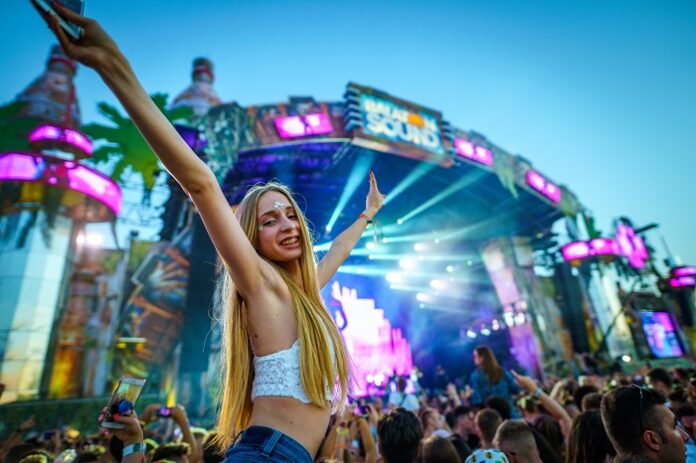 Balaton, one of Europe's biggest and most exotic beach festivals just released videos and images featuring some of the new onsite developments of the Zamárdi open-air beach this year. With a strong line-up featuring the likes of Armin van Buuren, Carl Cox, Charlotte De Witte, Tiësto, Adam Beyer and more, the festival now completes the four-day programme that will take place between the 28 June and 1 July.
This year the Heineken Balaton Sound Main Stage will undergo a significant revamp, with a led wall as the main component for spectacular visuals.
The stage structure, 10 metres high and 60 metres wide, will hold a 500m2 panel of 1,978 LEDs, which will be complemented by lighting technology to provide an unforgettable experience, setting the stage for shows by Armin van Buuren, Tiesto, Dimitri Vegas & Like Mike to name a few.
Balaton Sound Festival is a European reference for VIP offerings and exclusive onsite venues. This year, the VIP experience will include:
Las Vegas Casino Events VIP will host an exclusive festival environment from 4 pm until 4 am. When the Heineken Balaton Sound Main Stage programme finish, local DJs will take over the decks, but of course, the main stage shows will be visible from the Casino balcony. The food will be provided by Buddha Original, with a Far Eastern wok menu and sushi bites. Drinks will be available at various VIP bars with bottle service and reservations opening during the festival. VIP guests will also have access to a complete casino with roulette, blackjack tables and slot machines, bringing the Vegas atmosphere to the shores of Lake Balaton.
The VIP Sunset Beach experience will allow festival goers to relax in an exclusive setting, sunbathe or splash in the refreshing Lake Balaton until 8 pm, and enjoy the sunset with a cocktail. Sunset Beach will feature a private bar, a VIP toilet block, towel service and the opportunity to book a free relaxing Thai massage.
Lost in Jungle VIP is a thrilling visual experience with a paradise atmosphere featuring realistic visuals of giraffes, gorillas and all kinds of exotic animals. Digó pizzeria will be serving burrito specialities along with vegetarian options. From its balcony, VIP attendees will enjoy privileged views of the B Stage programme with Charlotte de Witte or Carl Cox in the B my Lake zone.
This year will welcome a new venue, the Radio1 Heineken Silver Beach Club – a true beach club atmosphere with its own sun deck and comfortable lounge furniture. Radio1's DJs will play sets from early afternoon until the main stage starts, then continue during breaks on the main stage and until dawn. Early risers can join techno yoga classes and the Splash Party by night – an evening swim in the lake after the main stage programme.
Balaton Sound will be "open" all day long, so something is going on at every time of the day and night. Other exciting activities might also include beach volleyball tournaments, a sunset SUP tour, a "Welcome to the House" dance workshop, international street theatre, a water amusement park, an outdoor gym, as well as a special kite flying and kite-making workshop.
Heineken Balaton Sound 2023 will take place at Lake Balaton, Hungary from 28th June until the 1st July. For more information, visit its official website. Tickets are still available.