Paul van Dyk kicks off the Ibiza season at SHINE with the club's official anthem song, "Beautiful Life." The new single, produced in collaboration with Marc van Linden and Sue McLaren is available now on VANDIT Records.
Whether you're a devoted trance fan or simply love to explore the limits of creativity, "Beautiful Life" is an ethereal and uplifting track that perfectly showcases the creative genius of its collaborators. Paul van Dyk and Marc van Linden's signature styles are evident in the soaring synths and captivating melodies, while Sue McLaren's vocals add emotional depth and warmth.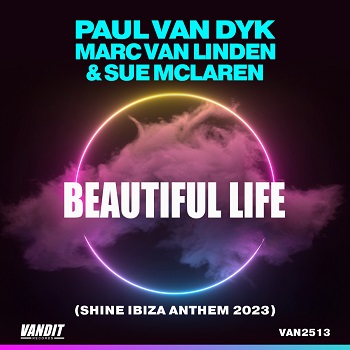 "Times can be tough, for us personally and looking at what is happening in the world around us. But life is wonderful. We must allow ourselves to live it, be grateful for it, embrace love, friends and family and enjoy those beautiful moments in life with them," Paul van Dyk says regarding the song's theme.
Historically, Paul van Dyk is a DJ who holds the longest running residency in Ibiza. Throught the years, he's held residncies at Amnesia, Pacha and other clubs before he took over Eden with SHINE where he consistently showcases his legendary style to his loyal fans.
His collaboration with Sue McLaren on the song "Guiding Light" has garnered over 300 million streams on YouTube while Hannover based DJ/producer Marc van Linden's recent solo singles "Timeless", "Orbit", "Dreamworld" (on van Dyk ́s label VANDIT Records), "Beautiful Together" (on GO Music/Black Hole Recordings) & "Fusion" (on Aly & Fila ́s label Future Sound Of Egypt), are all genuine club smashers.
Listen to the track below.