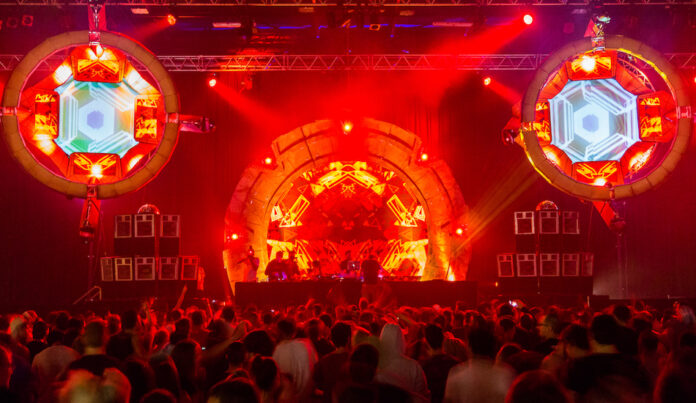 Dream Nation celebrates a decade of sharing electronic music on 15 & 16 September 2023 at the Parc des Expositions Paris Nord (France). After an initial wave of names ranging from electro giants to rising stars, the festival is now unveiling some thirty new artists to fill out the strong line-up of this 10th edition!
After 9 unforgettable editions of the festival, Dream Nation intends to make this anniversary edition an unforgettable ceremony of diversity and passion. From Electroclash to Techno, Drum & Bass, Trance, Dubstep and Hard Music, the 30,000 Dreamers expected to attend will be able to discover the wild lives and dj sets of the international stalwarts, French leaders and incendiary collectives most in vogue on the electronic scene.
Zeds Dead, Nina Kraviz, Miss K8, Hilight Tribe, Héctor Oaks, Sefa, Virtual Riot, Salut C'est Cool présente Dimension Bonus, Bagarre and many more… Many of the most iconic artists on the electronic music scene have been announced on the line-up! Discover the new names who'll be spreading their ecstatic vibes across the festival's 3 stages, from dusk till dawn.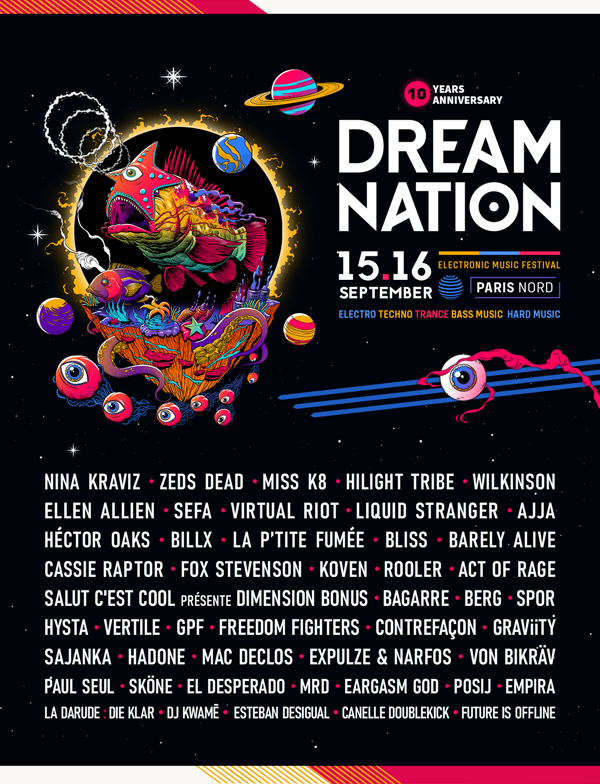 Joining Nina Kraviz, Héctor Oaks and Hadone on the Techno Stage for the first day of festivities are 3 iconic artists. Berlin icon Ellen Allien will turn the dancefloor into a steam room with her feverishly energetic set, while warrior Cassie Raptor will plunge the audience into a dark, industrial atmosphere. As for Mac Declos, the latest addition to Anetha's label, he's got a groovy set in store, like an invitation to lose control.
On the Hybrid Stage, the evening will also have a rave, punk and electroclash flavour with the arrival of alternative quartet Contrefaçon. Italy's craziest duo, Expulze & Narfos, will also be on hand to stir up the sound, alongside Salut C'est Cool présente Dimension Bonus, Bagarre, Sköne and El Desperado.
Miss K8, Sefa, Rooler, Vertile and Empira join French virtuoso Billx in the Hard Music arena, transporting the crowds to the rhythms of his delicate Hardtek basses. Dutch Raw Hardstyle phenomenon Act Of Rage will be invading the dancefloor with kicks of pure violence, as will young French prodigy Hysta. Last but not least, the craziest duo on the Hard Music scene, GPF, will be causing a general mental bug with their limitless show.
With a Bass Music Stage presented by Zeds Dead's prestigious label, Deadbeats, this second night session promises to be one to remember, with Drum & Bass headliners Wilkinson and Fox Stevenson setting the dancefloor alight alongside Koven and Spor. On the Dubstep front, Zeds Dead and Virtual Riot are joined by the iconic Liquid Stranger, masked duo Barely Alive, and Dutch phenomenon Posij.
On the Trance Stage, the stars will align for a line-up that already includes Hilight Tribe, Bliss, Freedom Fighters and Sajanka. A divine psychedelic session with master Ajja awaits the audience, as well as a trip to the land of progressive Trance with virtuoso Berg. A post-apocalyptic show combining cyberpunk and psytrance will be presented by the stage performers La P'tite Fumée, ending up in the stratosphere with the craziest alien in this universe, Graviity.
The colours of the Surprise Stage have finally been revealed! Paris most sought-after collective, La Darude, will be at the helm, taking us back to the future in the 2000s. Mixing Eurodance, happy hardcore and hard trance, the crew, made up of Die Klar, Dj Kwamē, Esteban Desigual, Canelle Doublekick and Future is Offline, will be welcoming some exceptional guests to their stage.
Starting with Paul Seul and Von Bikräv, two leading members of the Casual Gabberz collective, who will be waging a merciless b2b battle. Norwegian phenomenon MRD and sulphurous UFO Eargasm God will round off this session of euphoria, pop culture and racing goggles.
Dream Nation is putting on an extraordinary show on 15 & 16 September 2023 at the Parc des Expositions Paris Nord in France. There'll be plenty of surprises in store for the 30,000 dreamers expected to attend! Stay tuned.
Tickets available HERE!