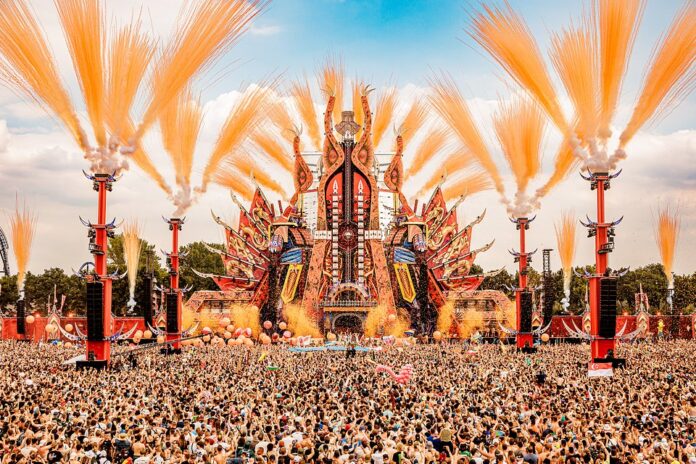 The biggest harder styles festival in the world, Defqon.1 Weekend Festival, took place again last weekend at the festival grounds in the Netherlands, and was completely sold out. Over 500 artists from around the world traveled to the festival's Holy Grounds to provide a record number of over 250,000 visitors from 110 countries with the best shows for four days straight.
Spread across 11 stages at the festival, 3 stages at the camping area, and the new Defqon.1 Theatre, artists including Sub Zero Project, Rebelion, Sefa, The Prophet, Headhunterz, Angerfist, Phuture Noize, Miss K8, and Outsiders ensured that festival-goers were treated to the best music from the scene throughout the weekend.
Fans who didn't want to miss any of the musical spectacle arrived on Thursday for the first day of the four-day festival. The festival weekend was once again filled with creative activations and concepts, this year centering around the theme 'Path of the Warrior.'
On Saturday morning, nearly 10,000 visitors gathered to participate in a workout together during the Warrior Workout at the UV stage. Traditionally, the 'left to right' moment took place on the mainstage during POWER HOUR, where this year a record number of 65,000 festival-goers were directed from left to right.
With other highlights including the new Defqon.1 Theatre and the iconic festival closing during The Closing Ceremony, visitors were not short of entertainment.
Sander Bijlstra, Managing Director of Q-dance: "We look back on an unprecedented edition. Despite organizing Defqon.1 already for 20 years, it still remains incredibly special to come together with so many enthusiasts. The atmosphere among the audience was excellent. We want to thank everyone who worked tirelessly behind the scenes to make this edition unforgettable."
During the renowned Closing Ceremony of Defqon.1 on Sunday, the unparalleled unity of fans of the harder styles was once again emphasized. The legendary end show was filled with phenomenal laser shows and impressive pyro effects. Accompanied by the song 'Warriors' by League of Legends, 2WEI, and Edda Hayes, Defqon.1 2023 reached an ecstatic climax on Sunday evening.
Q-dance, the organization behind Defqon.1, has been at the forefront of the industry since 2001 and continues to be a pioneering player in the music scene.