The world-renowned trio Above & Beyond returns to Red Rocks Amphitheatre on Thursday, October 19, and Friday, October 20, just for your listening pleasure!
This marks two years since the band's last appearance at the iconic venue, when they hosted two consecutive sold-out nights, performing to a crowd of nearly 20,000 fans.
Each night features a curated selection of supporting artists, with anamē and KASABLANCA set to join on Thursday, and performances from Durante & HANA and Simon Doty on Friday.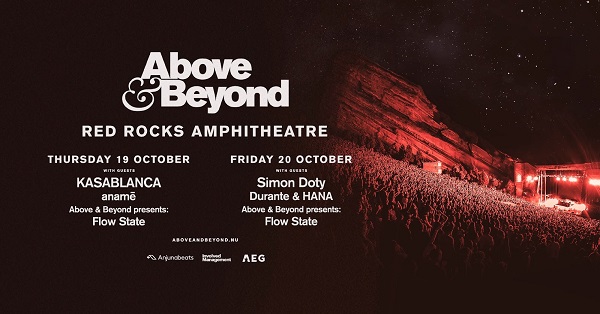 Both shows will begin with an extraordinary 'Flow State' performance, featuring Above & Beyond's Paavo Siljamäki soundtracking a guided yoga and meditation session with Elena Brower.
Pre-sale will begin Tuesday, July 18 at 10 am MT. Sign up to receive access.
Above & Beyond
Red Rocks Lineup
Thursday, October 19
KASABLANCA
anamē
Above & Beyond pres. Flow State
Friday, October 20
Simon Doty
Durante & HANA
Above & Beyond pres. Flow State