Anyma has announced the release of his highly anticipated debut album, 'Genesys'. The album will be released via Polydor / Interscope and consists of 14 tracks by the sought-after futurist artist, DJ and producer – including brand new single 'Syren', is out this Friday 28th July.
For the uninitiated, Anyma is the multi-disciplinary music and contemporary art project by Matteo Milleri (one half of the world-renowned duo Tale Of Us) whose music, live shows and visual art has been causing a stir across the music world over the past months.
Anyma's music and performances are immersive and innovative in the use of AI, digital audiovisual artistic elements interacting with reality, and sheer unique visual identity. After a handful of early releases and several spellbinding debut live shows, Anyma is finally prepared to unveil the first full length collection of music in debut album 'Genesys'.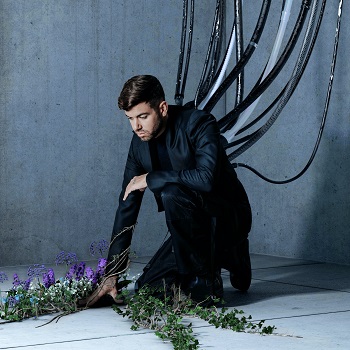 Footage recorded at Anyma's live performances regularly go viral across the globe; the distinctive visuals of a humanoid robot interacting with its world paired with the unparalleled music soundscapes clearly capturing the imaginations of millions. A recent example is available here in footage of Anyma's live performance at Tomorrowland Festival 2023, where acclaimed artist and singer Grimes joined Anyma on stage to perform their song 'Welcome To The Opera' – the album's opening track. Fans were astonished as they witnessed Grimes being lifted into the air, seemingly held by the digital robot in the palm of its hand.
Each track on 'Genesys' forms part of an ongoing story, the continuation of a narrative arc which explores themes of technology, nature & humanity and their coexistence. The future chapters of this story will be revealed at Anyma's next live shows, exhibitions and releases.
The album also boasts a peerless lineup of collaborators, handpicked by Anyma to feature on the record, including Grimes, Chris Avantgarde, Sevdaliza, Rebuke, Cassian, Delhia de France, CamelPhat, Innellea, and Poppy Baskcomb.
'Genesys', the debut album by Anyma, will be released August 11th via Interscope/Polydor. New single 'Syren' is out on Friday. Listen and pre-order here.
Album tracklist for 'Genesys' is as follows::
Eternity
Welcome To The Opera (with Grimes)
Chordial
Samsara (with Sevdaliza)
Explore Your Future
Syren
Save Me
Unearth
Walking With A Ghost (feat. Delhia de France)
The Answer
The Sign (with CamelPhat)
Angel 1
Consciousness
The Pact