Showtek, Steve Aoki, and Jem Cooke join forces to deliver a high-octane techno anthem titled 'Mirror Mirror.'
This colossal collaboration between industry titans is a testament to their unrivaled prowess. With its relentless pace, 'Mirror Mirror' immerses listeners in a sonic whirlwind, propelled by cutting-edge synths and a driving kick that demands attention. This Spinnin'/SKINK release is primed to ignite dancefloors and leave festival crowds in awe.
"Mirror Mirror" is more than just a song; it's a sonic fusion of our creative energies, a testament to our shared passion for pushing boundaries and delivering an unforgettable experience. Brace yourselves for a high-octane journey that will shatter mirrors and ignite souls on the dancefloor," Aoki says.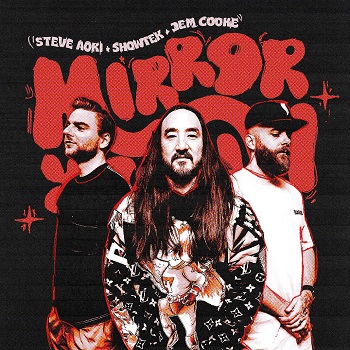 Cooke adds, "'Mirror Mirror' is about being in the depths of the night in the middle of a party and clapping eyes on yourself right in the thick of it, but instead of giving you the fear, you're galvanized. It's definitely a song for rascals! Steve and Showtek have turned it into a weapon!" Very excited for this one to come out."
Listen to the track below.