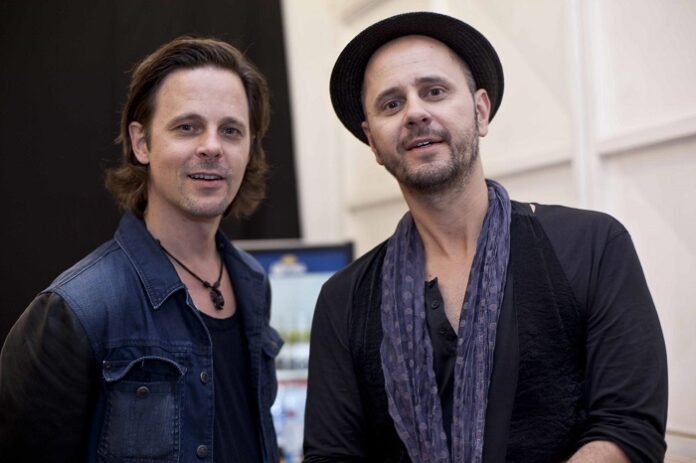 Booka Shade reveal their '20 Years Reworked' project in full, welcoming remixers such as Joachim Pastor, 8Kays, Qrion, JOPLYN and more as they celebrate the iconic milestone.
Founded and created twenty years ago (around the first Get Physical releases) by Arno Kammermeier and Walter Merziger, the name Booka Shade stands today as one of the most celebrated and revered acts within electronic music, with their famed live shows coupled with a rich and storied back catalogue full of iconic and memorable releases, from their debut album 'Memento' to the iconic 'Movements', celebrated across the globe.
Since their 2005 breakthrough, the band has played and headlined stages from Coachella to Glastonbury while being named in RA's Top 5 Live Acts and inducted into the Radio 1 Hall Of Fame. And yet, they continue to tour and release music just as frequently as they always have, with their latest project being an extremely special one to mark a monumental occasion.
A series launched across the summer months, with fresh remixes of classics and recent Blaufield Music catalogue highlights from Joachim Pastor, 8Kays, JOPLYN, BAUGRUPPE 90 and Nils Hoffmann dropping across June and July, the legendary pairing now gets ready to celebrate the milestone in full with the release of their full '20 Years Reworked' package – while also celebrating the 10th anniversary of their Blaufield Music imprint in parallel.
Featuring the five released remixes of 'Honeyslave', 'In White Rooms', 'Darko', 'Blaze' and 'Body Language', the full release also brings with it two fresh interpretations and an additional treat in the form of their latest single.
London's Casper Cole, who is quickly becoming a label favourite, returns with a powerful remix of their 2013 single 'Blackout: White Noise', which was the first release on their newly founded Blaufield label. He fuses hypnotic, driving synth melodies with crisp precision and warped vocals for a twisting late-night voyage.
The second new remix comes via Japanese DJ/producer and hotly-tipped talent Qrion, who makes her Blaufield Music debut in style. Featuring as one of DJ Mag's Future Stars for 2021 and on Forbes Japan's 30 Under 30 list, her take on the pairings vibrant collaboration 'I Go I Go' with Kaktus Einarsson – part of their 2020 LP 'Dear Future Self' – is an expertly worked deep dive into glistening soundscapes as delicate melodies weave effortlessly around the original vocal. The release is rounded out with some recent material from the duo, with their breezy collaboration 'Fusion Royale' alongside fellow German talent Satin Jackets concluding the rich package and providing a fresh reminder of their ever-evolving sound.
Booka Shade '20 Years Reworked' drops via Blaufield Music on 4th August 2023.
Tracklist
1) Booka Shade – Honeyslave (Joachim Pastor Remix)
2) Booka Shade – In White Rooms (8Kays Remix)
3) Booka Shade, Jan Blomqvist – Blaze (JOPLYN Remix)
4) Booka Shade – Darko (Nils Hoffmann Remix)
5) Booka Shade – Blackout: White Noise feat. Chelonis R. Jones (Casper Cole Remix)
6) Booka Shade, Kaktus Einarsson – I Go I Go (Qrion Remix)
7) Booka Shade, Satin Jackets – Fusion Royale
8) M.A.N.D.Y., Booka Shade – Body Language (BAUGRUPPE 90 Remix)
Listen and purchase HERE!