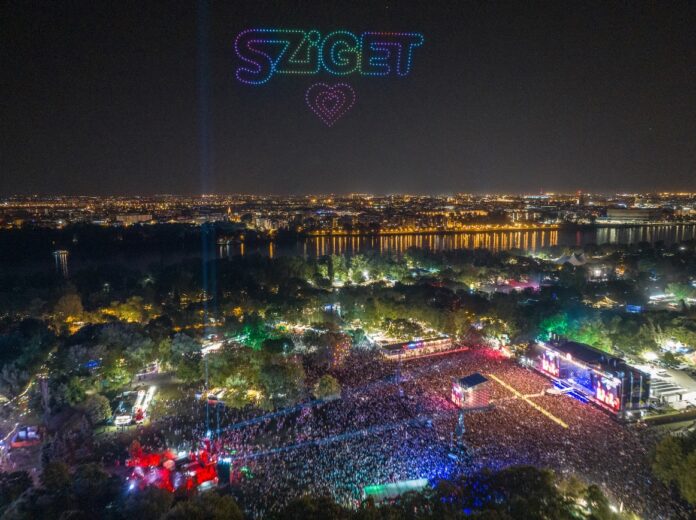 On the 10th of August 2023, the gates of Sziget Festival swung wide open, beckoning waves of eager festival-goers to the Island of Freedom. In its 29th edition, the iconic festival embraced Szitizens from across 100 nations, offering a rich tapestry of musical talent featuring a dynamic lineup including 070 Shake, Billie Eilish, Bonobo, David Guetta, Easy Life, Florence + The Machine, Foals, girl in red, Imagine Dragons, Jamie XX, Los Bitchos, Loyle Carner, Sam Fender, Shlømo, Sleaford Mods, Two Feet, Viagra Boys, YUNGBLUD & many more.
More than a music festival, The Island of Freedom is a realm of boundless immersion, where revelers cast aside their daily routines to delve into a world of wonder. Sziget transcends convention, becoming a haven where freedom, camaraderie, and cultural exploration merge harmoniously.
As attendees of all generations partake in the festival's expansive six-day program, offering an array of multi-genre harmonies, theatrical wonder, insightful panel discussions, captivating art workshops, and more, the Island's magic leaves an enduring sense of elation that lingers on, forever etched in memory.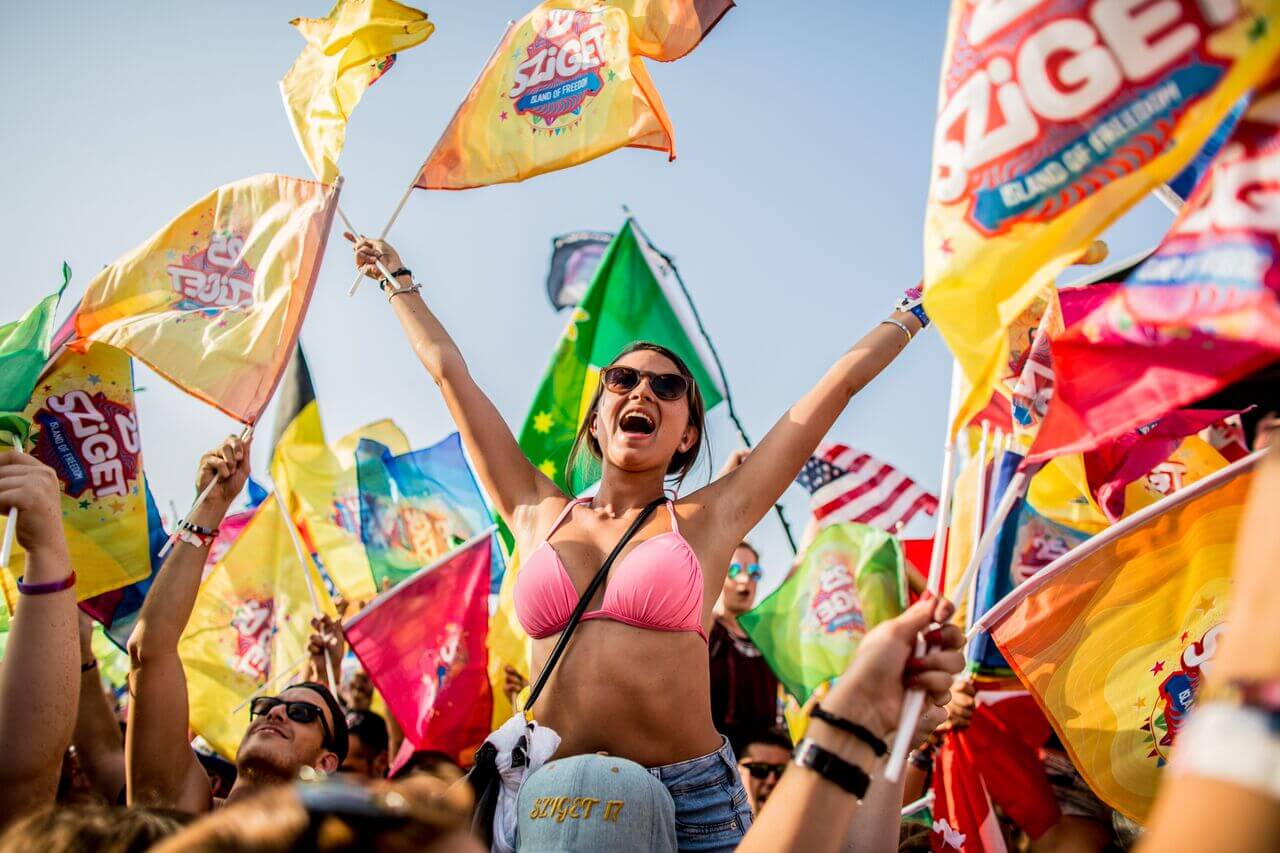 Day 1 | Thursday 10th August – Florence + The Machine, Foals, Sam Fender, Bonobo
British rock band Foals kicked off the festival in style on the Main Stage with an electrifying performance. Taking the stage by storm, Foals maintained their unwavering energy throughout their set, playing fan-favourite tracks that resonated with the audience. Following suit, singer-songwriter Sam Fender took the spotlight, delivering a powerful performance that showcased his soulful vocals and heartfelt lyrics.
Hailing from the UK, Florence + The Machine dominated the Main Stage with her ethereal presence. The band's enchanting blend of indie rock and soulful melodies created a captivating atmosphere that entranced the crowd. At the FreeDome stage, Bonobo, the renowned electronic artist, graced the stage with a mesmerising fusion of live instrumentation and electronic sounds, a signature style that has garnered him widespread acclaim.
Day 2 | Friday – Yungblud, Imagine Dragons, Loyle Carner, Jamie XX
British hip-hop artist Loyle Carner set the festival ablaze at the FreeDome stage, delivering a captivating performance that showcased his lyrical prowess and smooth flow. With his magnetic stage presence, Loyle engaged the audience throughout his set, delivering his well-loved tracks that resonated with fans. The dynamic Yungblud took the Main stage by storm, injecting electric energy into the atmosphere. His high-octane performance, characterised by his signature blend of punk and pop, had the crowd going wild.
As the sun set, the Main Stage came alive with the energetic presence of Imagine Dragons. The band's anthemic rock sound reverberated across the festival grounds, drawing an enthusiastic response from the crowd. Jamie XX, the electronic music maven, transformed the Freedome Stage into a pulsating dance floor with his genre-blurring beats and infectious rhythms.
Day 3 | Saturday – David Guetta, Mimi Webb, Niall Horan, Moderat
Emerging with a radiant presence, Mimi Webb graced the festival's Main Stage with a performance that showcased her enchanting vocals and emotive delivery. Her performance was a captivating blend of pop melodies and heartfelt lyrics that resonated deeply with the audience, leaving a lasting impression. Taking the stage next, Niall Horan charmed the crowd with his charismatic presence and soulful tunes. The singer-songwriter's heartfelt performance had fans singing along to his chart-topping hits.
As the night fell, the electrifying beats of David Guetta reverberated across the festival grounds, transforming the Main Stage into a pulsating dance arena. The internationally acclaimed DJ and producer delivered a high-energy set that had the crowd dancing in unison. The electronic music duo Moderat brought their unique blend of intricate sounds and captivating visuals to the Freedome Stage, creating an immersive experience that was both mesmerising and exhilarating.
Day 4 | Sunday – Mumford & Sons, Tom Grennan, M83
Taking the stage with undeniable charisma, Tom Grennan ignited the festival's Main Stage with a powerhouse performance that showcased his soulful voice and infectious energy. His magnetic presence resonated with the audience as he delivered his signature blend of heartfelt lyrics and anthemic melodies.
Following suit, Mumford & Sons graced the festival with their folk-infused rock sound, captivating the crowd with their timeless hits and authentic stage presence. As the sun dipped below the horizon, the ethereal sounds of M83 filled the festival grounds, creating an otherworldly atmosphere. The electronic music pioneers transported the audience to a sonic dreamscape with their immersive blend of synth-driven melodies and intricate arrangements.
Day 5 | Monday – Macklemore, Lorde, Caroline Polacheck, SG Lewis
Commanding the stage with an air of regal presence, Lorde graced the festival's Main Stage with an enthralling performance that showcased her artistry and distinct vocal prowess. Her magnetic aura resonated profoundly as she delivered a transcendent blend of introspective lyrics and captivating melodies. Following in her wake, the charismatic Macklemore took the audience on a musical journey, seamlessly fusing hip-hop and pop elements in a performance that exuded both energy and depth.
As the night unfurled, the avant-garde sounds of Caroline Polachek enveloped the festival grounds, creating an atmosphere of sonic enchantment. The visionary artist's intricate compositions and ethereal vocals transported the audience to a realm of introspection and wonder. Meanwhile, SG Lewis, a master of electronic soundscapes, transformed the festival into a pulsating realm of beats, seamlessly blending genres to create an immersive experience that resonated with both the mind and body.
Day 6 | Tuesday 15th August – Billie Eilish, Sleaford Mods, 070 Shake
Billie Eilish, a true pop prodigy, took the festival by storm with her genre-defying sound and unapologetic authenticity. Her performance was a dynamic blend of introspection and explosive energy, as she showcased her signature dark pop anthems.
The irreverent energy of Sleaford Mods dominated the festival with their unique brand of punk-infused spoken word and social commentary. Their unfiltered performance was a raw and declaration of their musical identity. Meanwhile, the enigmatic 070 Shake brought a unique blend of hip-hop and soul to the stage, infusing her performance with emotional depth and vulnerability. Her presence was magnetic, drawing the crowd into a whirlwind of emotion and sonic exploration.
"We promised a great renewal this year, and the feedback shows that we have managed to keep our promises", said Tamás Kádár, Sziget's main organiser, who promises a similar, if not better festival experience for visitors next year on the 30th edition.
"This year was a watershed in the history of Sziget. We have managed to redefine the Sziget experience by taking a big step forward and enhancing the guest experience, while the festival's diverse program has also been shaped to exceed expectations of the domestic and ever-expanding international audience", continued Tamás Kádár.
"We were delighted to see how much interest there is in Sziget after last year's year, which was still groaning with the pandemic. We can't complain about the number of visitors this year either, and we are confident that the message of renewal will be spread around the world" – Kádár added, who also revealed that they had two nearly sold-out days and a total of just over 420,000 visitors by the end of Sziget.