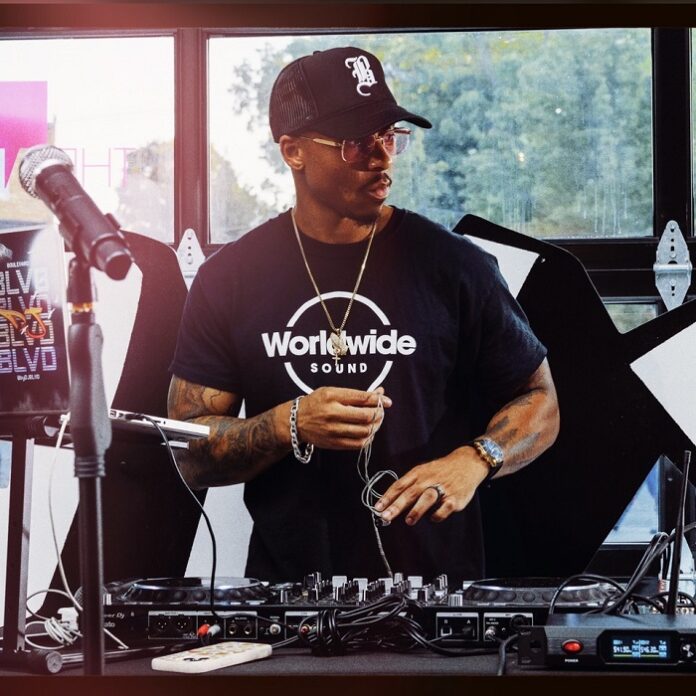 Today, we're thrilled to introduce you to byDJBLVD, a talented and rising Electronic Dance music producer and DJ with a journey that has taken him from the heart of New York City to international recognition. His signature style, with influences from Funk, Jazz, Soul, and more, sets him apart in the Electronic Dance music landscape.
In this exclusive interview, we'll get to know the artist behind the music. byDJBLVD shares details about his beginnings, the diverse musical influences that have shaped his unique sound, and his creative approach to music production, as well as, explore how he successfully balances his roles as an artist, consultant, and entrepreneur within the music industry.
Join us as we delve into byDJBLVD's world, unveiling the drive, passion, and creativity that certainly define this rising star in Electronic Dance music.
Hi byDJBLVD, how are you today?
I'm doing great today, thanks for asking. I'm glad to be sitting down with you, Rave Jungle to tell my story – excited to get into it.
Can you introduce yourself, where are you from and what do you do?
Sure! I'd be glad to introduce myself and give you some background on who I am. My name is Myraan (My-Rin), or "byDJBLVD," and I'm a 6-year internationally signed electronic music producer and DJ based in New York, USA.
How did you first get started in the music industry, and what inspired you to pursue a career as a DJ and electronic music producer?
I started my journey as an artist manager and marketer in the music industry around 2016. At the same time, I began learning the basics of DJing, and turntablism, and exploring what DJing looked like among various cultures. While my time working with artists and helping them grow their careers was fun, something was missing. It wasn't as fulfilling to pour into someone else's musical career when mine was lacking. In 2018, I started to take DJing much more seriously, and since then, I've continued to hone my craft and go on to work with some of the world's most renowned brands, such as Nike, SiriusXM, and more.
As for my music production career, I started in 2021, inspired by my DJ partner, SRRMN, and his last outstanding album, The Black Priest Gospel. I must've listened to that album a hundred times by now. I studied his music and went on to explore different artists across Deep, Jackin, Soulful, and Garage House. I ended up releasing my first EP in the Summer of 2021.
Your style incorporates elements of Funk, Jazz, Soul, and more. Can you tell us about the specific musical influences that have shaped your unique sound?
Of course! The range of musical influences and artists that have shaped my production and sound today spreads relatively far. My sound is continuously changing, and I pull from many different places. On any given day, I typically listen to and study Funk and Soul classics with that traditional House, 4-on-the-floor rhythm from around the world.
Melody-wise, lately, my taste has leaned toward learning about the style of many Japanese and Brazilian Funk artists, like Towa Tei and Serginho Meriti. I love the amount of instrumentation and groove these two cultures bring to Funk. Regarding my percussion and drums, I pull inspiration from many new and more household-renowned Electronic artists across Deep, Jackin, and Garage House, such as Kerri Chandler, Sebb Junior, Mike Millrain, and Scott Diaz.
Once I find my groove, I have to throw my flavor on it of course. That comes from within – If I can't feel the groove, the sound isn't right for me.
Your diverse release catalog spans multiple sub-genres of House music. Are there any sub-genres that you particularly enjoy working on, and why?
I love producing Jackin House and UK Garage; they feel the most natural. If you listen to my music, most of it has that 2-step feel, even on songs where it feels out of place. I try to get bold by attempting to produce Deep House among other genres, and while those songs are received well, they don't represent my most authentic work. When I'm producing Jackin House or UKG, I usually bounce in my chair the entire time.
Also, I love the versatility of Jackin House and UKG and how the traditional drum, percussion, and melodies work with so many instrumentation and synth elements. I typically start producing a song by matching my music keys to emotion and thinking about what I want the listener to feel. Whether I'm melancholy or happy and rambunctious, Jackin House and UKG are my typical go-to for putting my authentic self into a song.
To someone new to your music, which track would you suggest listening to first?
Oh, this is a tricky question. It is a whirlwind of different songs for someone new to my music. I typically go with "Baby, Hold Me Tight," my first signed track under Black Mambo Records in South Africa. It has just enough elements, including vocals, instrumentation, and background ambiance, to appeal to a wide range of listeners who prefer a chill vibe.
If I want to introduce someone new to a more upbeat, "Six Shooter Medley," released under Mango Sounds in 2022, is great.
What do you believe sets your music productions apart from others in the genre, and how do you approach creating your tracks?
I think what separates my music production from others in the respective sub-genres I produce within is the psychology behind how my tracks are structured. As I mentioned above, when I start building a track, I think about my emotions and what musical key correlates to. After choosing my musical key, I built the instrumentation and melody based on that emotion. For example, my go-to symphony usually revolves around a handful of saxophones when I go for a lively yet soothing and seductive sound. Also, studying a lot of Jazz across the decades, the saxophone was the symbol and voice for Black liberation when Jazz arrived in the States. To me, the saxophone feels freeing.
After my melody and instrumentation are built, the kicks and percussion follow. Deciding how to structure my percussion is the second most challenging part of my production because I must feel the groove. I may listen to the kicks and percussion of my song 1000 times before I decide if it's the sound I am going for.
Lastly, I bring the bass in, which has always been the hardest. A good bassline will make or break your song – I try to spend the most time here. On average, it takes me about 2-4 weeks to finalize a production I am proud of.
As an artist, consultant, and entrepreneur, how do you manage your time and balance your various roles within the music industry?
The funny thing about this question is that as a multi-faceted individual, I struggle with balancing my time between being an artist, consultant, and entrepreneur. It's tough to find time to give your 100% to something when you have a million things going on. Over my journey to bettering my time management, I have found that it is best to remember that "Rome was not built in a day." I remember that it is okay if everything does not get done today. Because God willing, there will be a tomorrow, and I can start fresh or continue.
Can you tell us some of the milestones you've achieved so far in your career?
Some of the milestones I've accomplished thus far include all of my label signings to some of the most prominent Electronic labels in their respective sub-genres and having the opportunity to collaborate with the world's largest consumer brands. Above all of that, the continued milestone is reaching new fans and listeners across the globe. Without them, I wouldn't be where I am today. I owe everything to my supporters and team.
Lastly, can you give us a sneak peek into your future projects or upcoming releases that your fans can look forward to?
I'm excited to share some releases in the pipeline with the world very soon. First, I have a new Latin House track, "Good Love," under Los Angeles-based label House Tribe Records, dropping at the end of September. After that, I have a UKG track, "The Genius is Me," coming out via Pogo House Records, out of London, UK, on October 13th.
Lastly, to close out the Fall season, I will likely have one or two more Deep House releases under my label, Las Olas Records, toward the end of October and Early November. You can expect at least 5-7 more tracks from me before the end of the year!
As we conclude our conversation with byDJBLVD, we thank him for his time sharing a glimpse into the musical journey of an artist who continues to leave his mark on the Electronic Dance music scene.
With a rich blend of influences, a dedication to his craft, and a promising future filled with exciting releases, byDJBLVD continues to make waves in the world of music. Stay tuned for his upcoming tracks and follow the groove as he takes the global stage by storm.