Amsterdam Dance Event (ADE) celebrates 50 years of Hip Hop during its ADE Beats conference with founding father and turntable legend Grandmaster Flash.
Hot on the heels of his appearance at the MTV VMA's alongside Lil Wayne, Nicki Minaj and LL Cool J, the Hip Hop and DJ pioneer joins the ADE Beats on Saturday, October 22nd for an exclusive keynote and Q&A on the rich history of the genre and culture.
Hip Hop 50: Grandmaster Flash – Birth Of A Culture
Grandmaster Flash is one of Hip Hop's most influential and ground-breaking pioneers. As one of the original founders of the genre, he became world famous for his revolutionary and disruptive way of looking at the DJ and his equipment.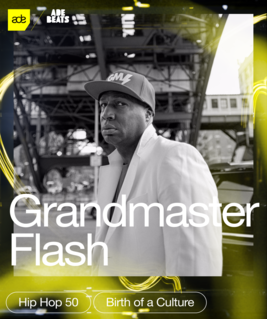 During the Amsterdam Dance Event, Flash will present an exclusive keynote Q&A and masterclass on a journey through the evolution of Hip Hop and DJ culture. He has influenced generations of DJ's and musical artists with his pivotal role in the development of using record players and vinyl to create new music, perfected the technique of splicing and mixing breaks with two turntables, scratching and so much more, laying the foundation for turntablism and turning DJs into fully fledged live acts.
For their enormous impact on modern music, Grandmaster Flash and The Furious Five were inducted into the Rock and Roll Hall of Fame in 2007, as the first Hip Hop group ever.