Following the successful launch of its 3-day Easter edition and a series of summer pop-ups, The BPM Festival has announced its third edition at its base of Tamarindo, Costa Rica on January 24th-28th, 2024. Over the course of 5 days, guests will be treated to an extraordinary and immersive experience set against the breathtaking backdrop of Tamarindo's sandy beaches, tropical forests, and vibrant local culture.
Phase one of the festival's diverse lineup kicks off with over 60 names, including Bedouin, Carlo Lio, DJ Holographic, Eagles & Butterflies, Eli & Fur, Franky Rizardo, GORDO, Hernán Cattaneo, HUGEL, Øostil, Paco Osuna, Sainte Vie, and Sidney Charles amongst many other leading artists in house and techno.
The BPM Festival: Costa Rica is preparing to host its BPM Familia in 2024 with the announcement of a stacked phase one lineup and confirmed coveted label showcases. Making their BPM Costa Rica debut will be British Innervisions mainstay Eagles & Butterflies, chart-topping melodic house duo Eli & Fur, Dutch house maestro Franky Rizardo, Mexican melodic house producer Øostil, Akumandra founder Sainte Vie, and German groove master Sidney Charles to name a few.
Following his highly-anticipated and successful BPM debut at their inaugural Miami edition last year, Nicaraguan-American producer GORDO will be taking over the decks in the Costa Rican jungle for the very first time. Guests can also look forward to enjoying sets from some of their favorite BPM staples, including the likes of AJ Christou, Bedouin, Carlo Lio, DJ Holographic, HUGEL, Jean Pierre, Jesse Calosso, Mason Collective, Nathan Barato, Neverdogs, Paco Osuna, Rafa Barrios, Stacey Pullen, and more.
On the showcase front, Addy's 4 X 2, Neverdogs' Bamboleo, Jesse Calosso's Boogeyman, and Carlo Lio and Nathan Barato's Rawthentic will return to BPM's beach and jungle stages. Additional revealed showcases include Rafa Barrios' Bandidos, AJ Christou's Barbaro, Jean Pierre's Pakate, Prunk's PIV, GORDO's Taraka, Miguelle & Tons' Two & A Half Cats, Andrea Quinero's Windmill, and more.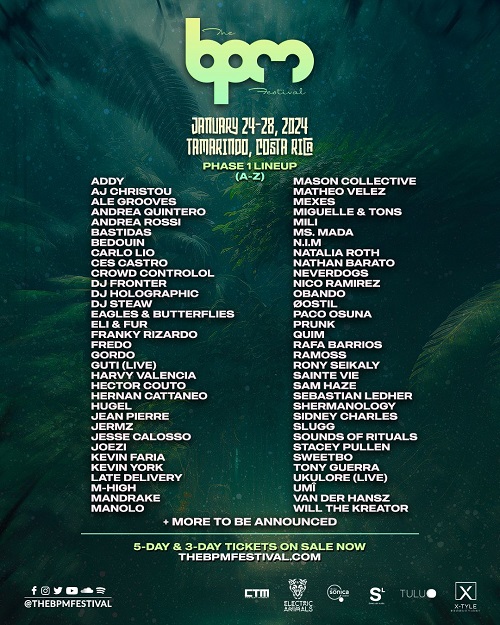 With each edition raising the bar higher, The BPM Festival: Costa Rica 2024 will welcome old and new faces from across the globe, showcasing an exceptional lineup and expanding its hypnotic stages.
Set amidst the luscious Costa Rican jungle, festival goers can explore three mesmerizing jungle stages, as well as a brand-new, never-before-used sunset beachside venue. Each stage will provide a unique atmosphere, amplifying the energy and vibes throughout the 5-day celebration.
To further enhance their BPM experience, guests will also have access to a curated selection of daytime pop-up parties. Located in the center of Tamarindo, Chiquita's and El Moro will once again host a selection of pop-ups, further enriching the festival's diverse offerings. The BPM Festival remains committed to curating inimitable experiences for attendees while staying true to its roots and the community that has supported the brand throughout the years. As preparations for The BPM Festival Costa Rica 2024 are underway, the excitement builds, and anticipation for this monumental event reaches new heights.
The BPM Festival has partnered with TULU Travel, offering 5-night full-service accommodation packages at several hotels situated within the heart of Tamarindo. Sold separately from festival passes, travelers can choose between the iconic Hotel Diria and the adults-only Jardin Del Eden.
Ranging from $630 to $1315 per person, select packages include roundtrip airport transfers, daily breakfast buffets, yoga classes, meet and greets, and more. Located just steps away from breathtaking white sand beaches and within walking distance of several bars, restaurants, shops, and more, limited packages remain available for reservation at bpmtulu.com.
For those looking to attend the sophomore edition of the renowned BPM Festival: Costa Rica, 5-day and 3-day weekend passes are available for purchase now.