Legendary Bosnian-German DJ & producer Solomun has unveiled his brand new remix of Purple Disco Machine, Nothing But Thieves and Duke Dumont's new single 'Something On My Mind'.
Solomun's rework enhances Conor from NBT's melodic vocals, fusing club musicality with airtight production to create a hypnotic techno roller. Solomun's remix arrives fresh off the back of his iconic Ibiza residency Solomun +1 at Pacha this summer which featured guests including Four Tet, Marcel Dettmann, Jamie XX, Dom Dolla, Midland and more. The Diynamic label head is best known for tracks including 'Around', 'Home', 'The Way Back' and his remix of Foals' single 'Late Night'.
The original version of 'Something On My Mind' is showing no signs of slowing down. The track has garnered over 6.5 million streams and has received a wealth of support from BBC Radio 1, where the track was Vick & Jordan's Tune of The Week, as well as key support from Clara Amfo, Danny Howard and Rickie, Melvin & Charlie. The single is also on the rise across EU radio.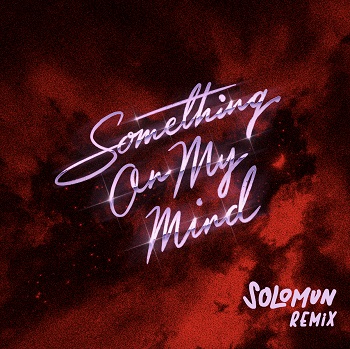 Purple Disco Machine has been at the forefront of a disco revival, earning accolades and chart success with his infectious grooves. His recent collaboration with Kungs 'Substitution', so far achieved over 150 millions streams worldwide, becoming another massive European airplay hit (#2 in Europe), and Gold status in Italy, The Netherlands, France, Belgium and Hungary.
With an impressive track record that includes Grammy wins and remixes for a multitude of acclaimed artists, Purple Disco Machine has solidified his position as a trailblazer in electronic music. Having recently received a Grammy for Best Remix Performance on Lizzo's 'About Damn Time,' Purple Disco Machine continues to ride a wave of incredible success.
The electronic virtuoso has established himself as a chart-topping artist through his collaborations with Sophie and the Giants on tracks including 'Hypnotized', 'In The Dark' and 'Paradise' as well as achieving numerous multi-platinum singles with the likes of Eyelar and Moss Kena. Alongside these achievements, Purple Disco Machine has consistently delivered a series of dancefloor favorites including 'Body Funk', 'Dished (Male Stripper)', 'Rise', 'Playbox' and recent single 'Bad Company'.
Southend five-piece Nothing But Thieves are known for their impactful alt rock sound, insightful lyricism and powerful vocals, and they add a dynamic edge to the track, which is one of the few artist collaborations they have done. The band recently released their UK #1 album 'Dead Club City' and have been touring festivals across the UK and Europe this summer ahead of headline North American and UK dates this Autumn and a European tour next year.
While Duke Dumont's focus is purely on artistry and building a world-beating live show, he's still in the habit of making outrageously successful music commercially in the process. His worldwide streaming numbers literally stretch into the billions, over 4 billion to be precise, making him one of the most successful producers of electronic music on the planet. Monster tracks such as 'The Chant', 'Ocean Drive', 'The Power', 'Red Light Green Light', 'I Got U' and 'Need U (100%)' have been detonating clubs and parties, and continue to do so, for the last decade. Upon release, 'I Got U' and 'Need U (100%)' went to #1 in the UK single charts.
The concept for a collaboration blossomed from a mutual respect shared between Purple Disco Machine, Duke Dumont and Nothing But Thieves. Purple Disco Machine has long been an admirer of the indietronica sound, which is evidenced by his remixes for artists like Foals, Two Door Cinema Club, Balthazar, New Order and Royal Blood.
When Nothing But Thieves approached Purple Disco Machine with a request to remix a track from their latest album, Purple Disco Machine had a different proposition in mind – instead, proposing the idea of creating something entirely original together. With this, the band eagerly joined forces, resulting in the birth of 'Something On My Mind.'
Listen to the remix below!