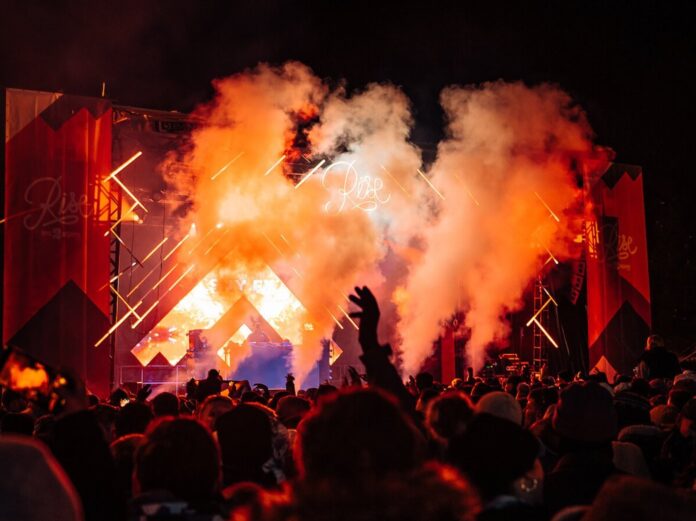 Rise Festival is the party on top of the world that brings together world-class music with endless alpine fun and now it adds another mouthwatering list of stars to complete its line-up.
Now playing the much-loved, independent ski festival in Les Deux Alpes, France will be Jungle (DJ Set), Chris Stussy, LF System, Sarah Story, Charlie Boon, GHSTGHSTGHST, Joe Lobel, Murphy's Law, Sim0ne, TIBASKO, Jaded and Ryan Arnold, including two epic stage takeovers by the influential independent label, Another Rhythm.
This all comes on top of such previously announced as Bicep, Sonny Fodera, Sigma, blk., Kettama, Mella Dee, Sammy Virji, A Little Sound, Oden & Fatzo (live) and many more. This non-stop mountain top adventure runs from 9th to 16th December and is a perfect way to get Christmas festivities started.
These latest line-ups add further dimensions to an already impressive list of talent and include what will be an unforgettable closing DJ set from Jungle who are riding high off the release of their new album Volcano. The genre-breaking UK duo is celebrated for their exemplary musicianship and live instrumentation as they mix up disco, soul and hip-hop to stunning effect. The Mercury Prize nominees are mainstays on commercial radio with over a billion streams to date and big shows behind them at places like Coachella.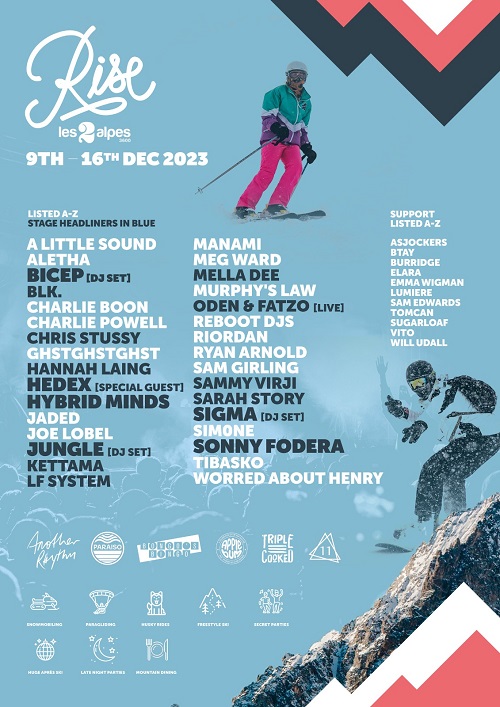 They will be joined by the likes of breakout Dutch star Chris Stussy who is known for his slick blend of spaced-out deep house, minimal and techno, the hit-making Scottish duo LF System who are behind the ubiquitous 'Afraid to Feel', plus BBC Radio 1's Future Dance host Sarah Story, as well as new school talents such as Charlie Boon, Joe Lobel, Murphy's Law, Jaded and Ryan Arnold.
Founded in 2018, London's taste-making Another Rhythm is synonymous with pushing dance music forward into many different and exciting new avenues with releases from red-hot talents from the UK and beyond including TIBASKO, Raffla FL, 4am Kru and many more.
They bring all their considerable know-how to two much-anticipated stage take-overs at Rise – a Saturday welcome show at the stunning outdoor Muzelle Stage which is backed by towering snow-capped mountains and will feature Sugarloaf, Sam Girling, Sarah Story and Sim0ne, and one indoors at the intimate, L'Aavalanche alpine club, which promises to offer an up close and personal experience with upcoming and emerging artists Sam Girling, TIBASKO and GHSTGHSTGHST.
2023 marks the 9th edition of the epic Rise Festival which is known to offer so much more than just world-class music across three outdoor stages and six indoor venues. It is an idyllic mix of breathtaking alpine scenery, some of Europe's best mountain skiing, raves at 3000m and plenty of other high-octane activities such as paragliding through the Alps while there is also plenty of relaxation to be had in the spas as well as delightful local cuisines to try, all with like-minded music and travel lovers from more than 35 different countries.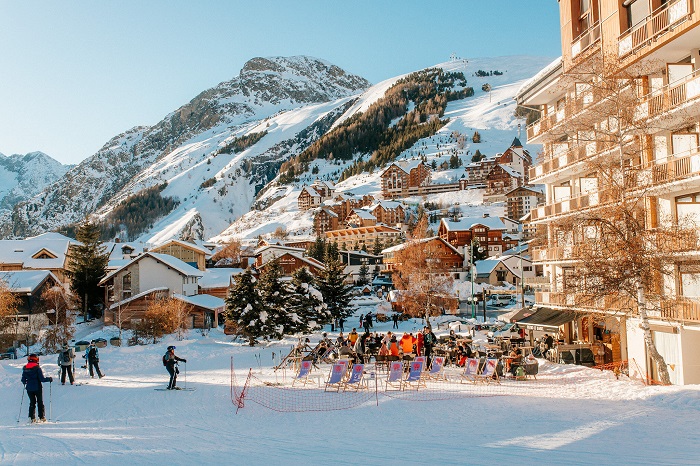 This latest edition of Rise Festival is set to be the most complete and spectacular yet and will confirm that there is nowhere better to party at the top of the world. Final tickets at just £399 per person including a 6-day lift pass are available HERE.