World-renowned electronic music icons Paul van Dyk and DJ Pierre (also known as PHUTURE) have joined forces to create a groundbreaking and electrifying track titled 'ACID TRAXXX.' This monumental collaboration is available now exclusively through VANDIT Alternative as a download and on vinyl as part of the ACID TRAXXX EP on October 20th.
'ACID TRAXXX' promises to be a game-changer in the world of electronic music, blending the pioneering acid house sounds of DJ Pierre with the mesmerizing energy that Paul van Dyk is celebrated for. The track brings together generations of electronic music, channeling PHUTURE's 'Acid Tracks' from 1987, bridging the gap between classic and contemporary styles and delivering a unique auditory experience that is sure to resonate with fans, old and new.
Paul van Dyk, a Grammy-nominated artist and globally acclaimed DJ and producer, expressed his excitement about the collaboration, stating, "Working with DJ Pierre has been a dream come true. He's a founding member of music as we know it and revolutionized electronic music with his innovative use of the Roland TB-303. We wanted to create a track that pays homage to the roots of electronic music while pushing boundaries and taking listeners on a sonic journey."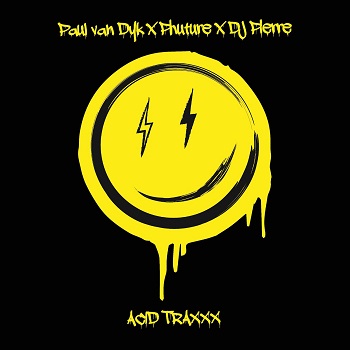 DJ Pierre, a true pioneer of the acid house movement, remarked, "Teaming up with Paul has been an incredible experience. 'ACID TRAXXX' is a fusion of our musical worlds, and it captures the essence of what both of us stand for in the world of electronic music."
'ACID TRAXXX' is a relentless, high-energy composition that blends the signature 303 basslines and squelchy synthesizers of acid house with uplifting melodies and driving beats. The track has already generated immense anticipation within the electronic music community and is expected to be a highlight of both artists' live sets.
To celebrate the release of 'ACID TRAXXX,' Paul van Dyk and DJ Pierre will be featured on the "Evolution Of Electronic Music" panel about the evolution of electronic music, held at Our House Museum in Amsterdam on October 20th as part of the Amsterdam Dance Event.
Hosted by Mixmag's Megan Townsend, the highly anticipated event promises a night of sonic exploration and insightful conversations as Paul van Dyk and DJ Pierre, both trailblazers in their respective realms, join forces to showcase the seamless fusion of their musical expertise while sharing their insights, experiences, and thoughts on the past, present, and future of the electronic music landscape.
Listen to the track below.