After the resounding success of the previous edition, which saw a sold-out event in July, Elrow Town London returns to its original August date for the upcoming year in 2024. The chosen date for this spectacular event will be August 17th of the same year, with the aim of bringing together over 25,000 enthusiastic attendees at the iconic East London venue, Parsloes Park.
The next Elrow Town London edition invites you to step into the most immersive universe of elrow, an extraordinary creation of an unconventional and passionate family, The Arnaus.
elrow Town Festival stand as the hallmark event for the brand, and each year, only three to four cities are carefully chosen to host this extraordinary celebration. They represent the epitome of the elrow experience: taking entertainment and fun to unprecedented heights.
Here's what Juan Arnau, elrow founder, had to say about the event:
"In 2024, we are thrilled to unveil a new edition of this exceptional event. We cordially welcome you to immerse yourself in our unique world, a creation of elrow that breathes life into the realms of madness, knowledge, fantasy, and unbridled joy through our incredible themes and seemingly impossible settings".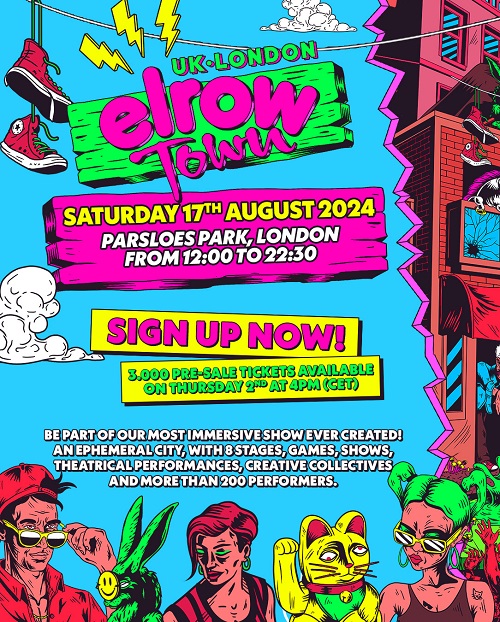 Elrow Town embodies "the essence of Elrow," the ultimate experience. It is the best show created till now. "We do it grand, constructing a whimsical city from scratch that comes to life for one or two unforgettable days", said Cruz Arnau, elrow's founder.
It's said to be the city of revelry, music, and endless entertainment, a place where you don't just want to visit, but where you'd want to call home. The city beckons you! It's a veritable treasure trove of fun, a city where organized chaos reigns to provide an unforgettable experience.
"London was the first town where our city started and both the creativity and the music styles have expanded. At this year's edition you could find house, tech house and techno as well as hip hop, UK Garage, Latin, funk & soul and everything in between. Get ready for more musical variety and surprises in 2024", comment Victor de la Serna, Music Director.
Get ready to be part of their most immersive show ever created! An ephemeral city, with 8 stages, games, shows, theatrical performers, creative collectives, +70 DJS and more than 200 performers.
You can sign up HERE!