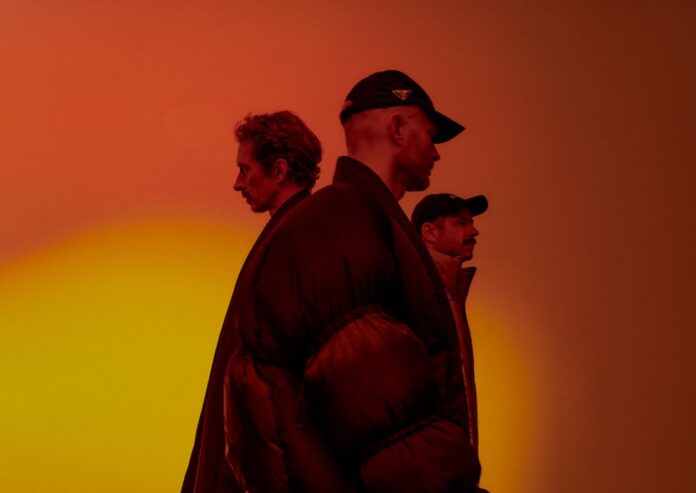 Danish band WhoMadeWho is thrilled to announce their forthcoming and highly anticipated new live tour. This run promises to be a groundbreaking and unforgettable experience and will feature a brand-new mesmerizing stage design crafted in collaboration with the worldwide renowned architecture group BIG (Bjarke Ingels Group), cutting-edge visuals brought to life by flora&faunavisions, EyeMix Studio, and Christopher Mulligan, and, of course, all of the signature sounds that have defined WhoMadeWho as a globally renowned electronic live-act.
Since their creation, the Danish trio has been a driving force in pushing the boundaries of music, seamlessly blending Indie, Disco, and Techno into an electrifying fusion that continually leaves audiences in awe.
Comprising Tomas Høffding, Tomas Barfod, and Jeppe Kjellberg, the band has built a discography that spans over a decade. With a legacy that stretches from Circoloco to Coachella, their live performances have garnered a reputation for being nothing short of legendary.
Memorable performances, such as the legendary Cercle appearance at Abu Simbel temple in Egypt, and their widespread collaborations with electronic music elites, have solidified their reputation as trailblazers in the industry. Their musical evolution is evident in their seven studio albums, with the 2022 release UUUU receiving widespread acclaim for its fresh and innovative sound.
The world tour will kick off on November 2023 and will reach audiences across multiple cities, such as Paris, Madrid, Berlin, Istanbul, New York City, Los Angeles, Santiago de Chile, and London as well as their hometown Copenhagen, with more cities being announced soon.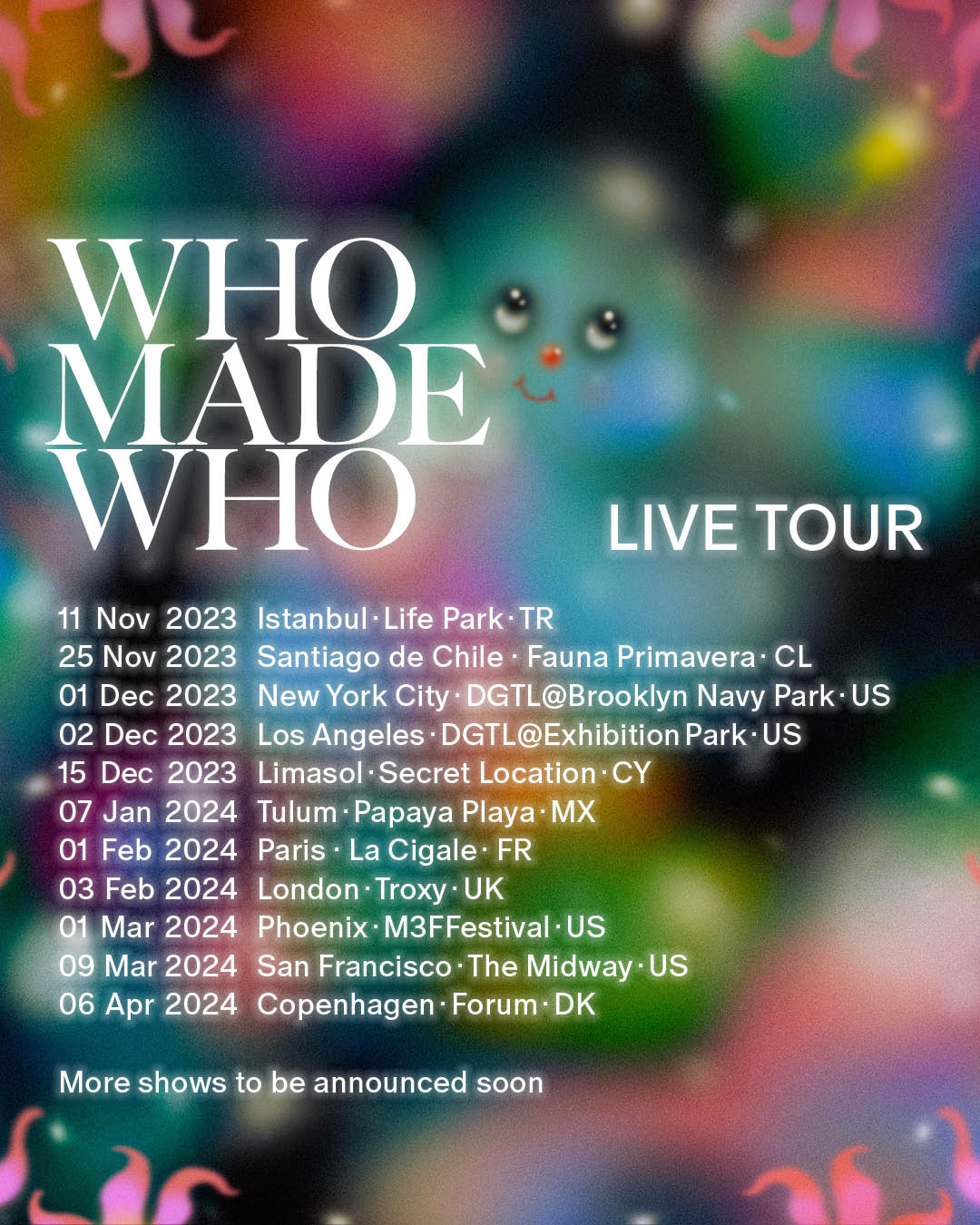 Høffding, Barfod, and Kjellberg express their excitement about the upcoming tour:
"We cannot wait to present this new project, which is by far the most ambitious and elaborate we have ever worked on. With the help of several astonishing artists of different fields, we will this year, be able to connect with our fans in a new progressive and immersive way."
For this upcoming world tour, the trio aimed to merge their forward-thinking sounds and visuals with an enthralling new stage setup to create a fresh, new audiovisual experience that further elevates their knack for creating boundary-pushing performances. For this, the group enlisted fellow Danish architecture firm, Bjarke Ingels Group (BIG).
BIG's involvement promises a concert experience that transcends traditional boundaries. Their creations frequently intersect with the electronic music realm, especially evident in their contribution to Burning Man: "The ORB", an 85-foot-diameter inflatable mirrored sphere that floated over Nevada's Black Rock Desert.
"Our design for WhoMadeWho's stage draws from our previous ventures into inflatable creations like SKUM and THE ORB," Jakob Lange, Partner and Head of BIG Products, shared. "With maximum visual impact, the inflatable sphere serves as a canvas for captivating three-dimensional video projections, elevating the concert experience to a new level."
With its remarkable portfolio, BIG is behind some of the world's most ingenious architectural designs. From the Musée Atelier Audemars Piguet in Switzerland to New York's unique twisted towers, BIG pushes the boundaries of what's achievable in design. Their cutting-edge, sustainable approach and industry collaborations mark their commitment to holistic and innovative solutions.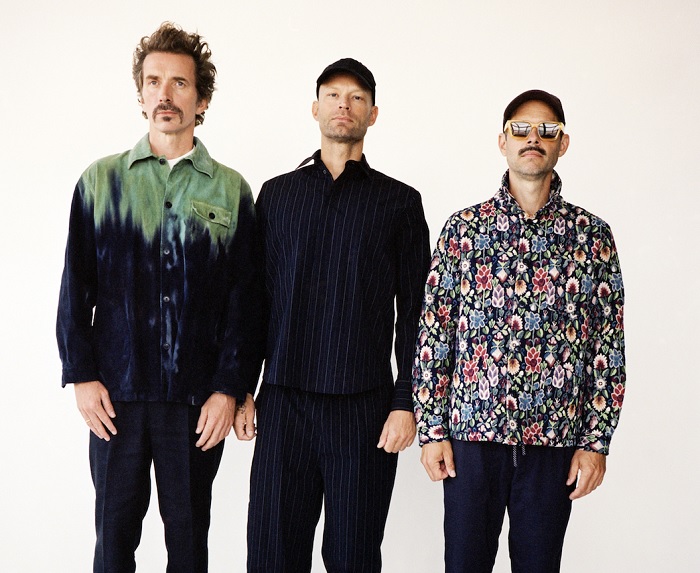 On incorporating such distinct architectural prowess into WhoMadeWho's electrifying performances, flora&faunavisions, the visionary team behind stage designs for music giants, steps in. "Our collaboration with WhoMadeWho has been an exploration beyond genres, crafting visual systems that respond real-time to the band's tracks, while simultaneously taking audiences on a deep emotional journey," they revealed.
Rounding out their powerhouse creative team, the band tapped EyeMix Studio to head their visuals. Known for their work with various notable producers, including Tale of Us's MRAK, the LA-based agency combines the power of AI with other advanced visualization tools to bring their art to reality.
"To me, WhoMadeWho's sound captures the electronic essence of Pink Floyd," founders Solo Avital & Ariel Vromen say, "In today's live performance landscape, audiences expect visuals as a fundamental part of the experience. We aim to harness this audio-visual synergy to strengthen the artist's connection with their fans."
This tour is expected to showcase the band's creativity, energy, and commitment to providing an unforgettable live experience. The future of live performance and electronic music is unfolding, and WhoMadeWho stands at its forefront.
WHOMADEWHO GLOBAL LIVE TOUR DATES 
11.11.2023 – Life Park, Istanbul
25.11.2023 – Fauna Primavera, Santiago de Chile
01.12.2023 – DGTL at Brooklyn Navy Park, New York City
02.12.2023 – DGTL at Exhibition Park, Los Angeles
15.12.2023 – Secret Location, Limasol
07.01.2024 – Papaya Playa, Tulum
02.02.2024 – La Cigale, Paris
03.02.2024 – Troxy, London
01.03.2024 – M3F Festival, Phoenix
09.03.2024 – The Midway, San Francisco
06.04.2024 – FORUM, Copenhagen
Further dates in Paris, Madrid, Zurich, Buenos Aires, Sao Paulo, Stockholm, Barcelona, Athens, Dubai, San Diego, and more will be announced soon.
Tickets available HERE.