UNTOLD, Dubai's first mega music festival unveils first round of incredible headliners featuring Ellie Goulding, G-Eazy, Major Lazer, Armin van Buuren, Bebe Rexha, Don Diablo, Paul Kalkbrenner, Timmy Trumpet, and Hardwell.
Featuring the most talented artists on the scene, who will be lighting up the stage at this mega festival, this musical extravaganza will please every modern taste with electrifying DJs, massive live acts, dynamic hip-hop beats, mind-blowing alternative rock, and much more.
This 4-day festival will run from February 15 to 18th 2024 and promises to be jam-packed with over 100 of the best artists in the world, including some of the top singers, DJs, and musicians from across the globe, which will be sure to attract the UNTOLD fans.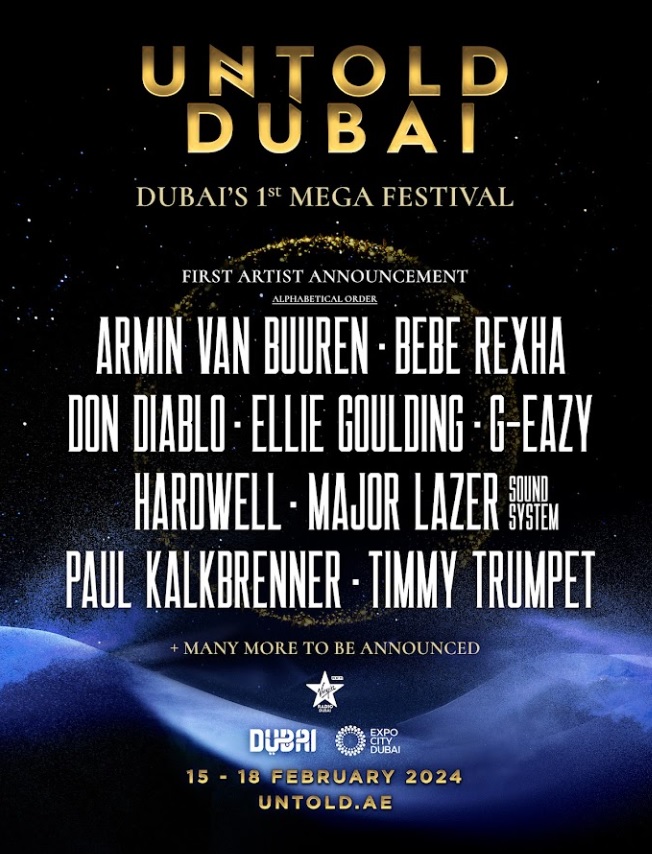 With some top talents now unwrapped, UNTOLD Dubai is ready to feed the growing curiosity among the event's diehard fans as anticipation reaches uncharted levels. Armin van Buuren is surely the first name on anyone's lips when they think of UNTOLD Dubai, and the Dutch DJ and record producer, renowned in the world of trance, will be taking his rightful place on the main stage.
Hardwell, the kingpin of the big room house, will further spark the DJ scene. Adding to the DJ frenzy is Don Diablo, one of the pioneers of the future house genre, and Timmy Trumpet, an Australian talent known for mastering the trumpet and fusing jazz with dance music.
Bebe Rexha, an American pop icon who constantly breaks the mold on stage to redefine music norms, takes the sensation to another unexpected realm of brilliance. During her years of rocking the global melodic scene, she added her special touch to alternative rock, R&B, country, rock, and plenty more genres.
Ellie Goulding, one of the best British pop female lyrical geniuses, is set to touch down at UNTOLD Dubai. Ellie is a singer and songwriter who will leave the audience in awe with her expertise in electropop, synth-pop, folktronica, and others.
To ensure no contemporary music lovers are left behind, UNTOLD Dubai is also bringing the magical Major Lazer Soundsystem, a Jamaican-American trio with Diplo, Walshy Fire, and Ape Drums. This exceptional trio burst onto the scene 15 years ago and has produced innovative hits ever since. With their niche in electronic dance music and DJing, the audience should put seatbelts on their ears as they prepare for the ultimate musical sensation.
The German techno DJ and producer, Paul Kalkbrenner will add further intrigue to proceedings as he breaks down different tracks and then reassembles them onstage. He is one of techno's biggest superstars after several chart-topping albums, amassing millions of fans and headlining festival main stages worldwide.
Topping off the bumper list of already confirmed headliners is the one and only American rapper G-Eazy. Well known for his hit singles "Me, Myself & I", "No Limit", and "I Mean It", the chart-topping hitmaker will bring a more edgy vibe to the festival with his unique hip-hop beats and engaging lyrics. Note that these are only the first names for UNTOLD, Dubai's First Mega Festival with many more to be announced.
Being the city's first mega festival, UNTOLD Dubai will be on another scale of epicness, adding to its stellar lineup of talents a set of venues that will be genuinely immersive at every level.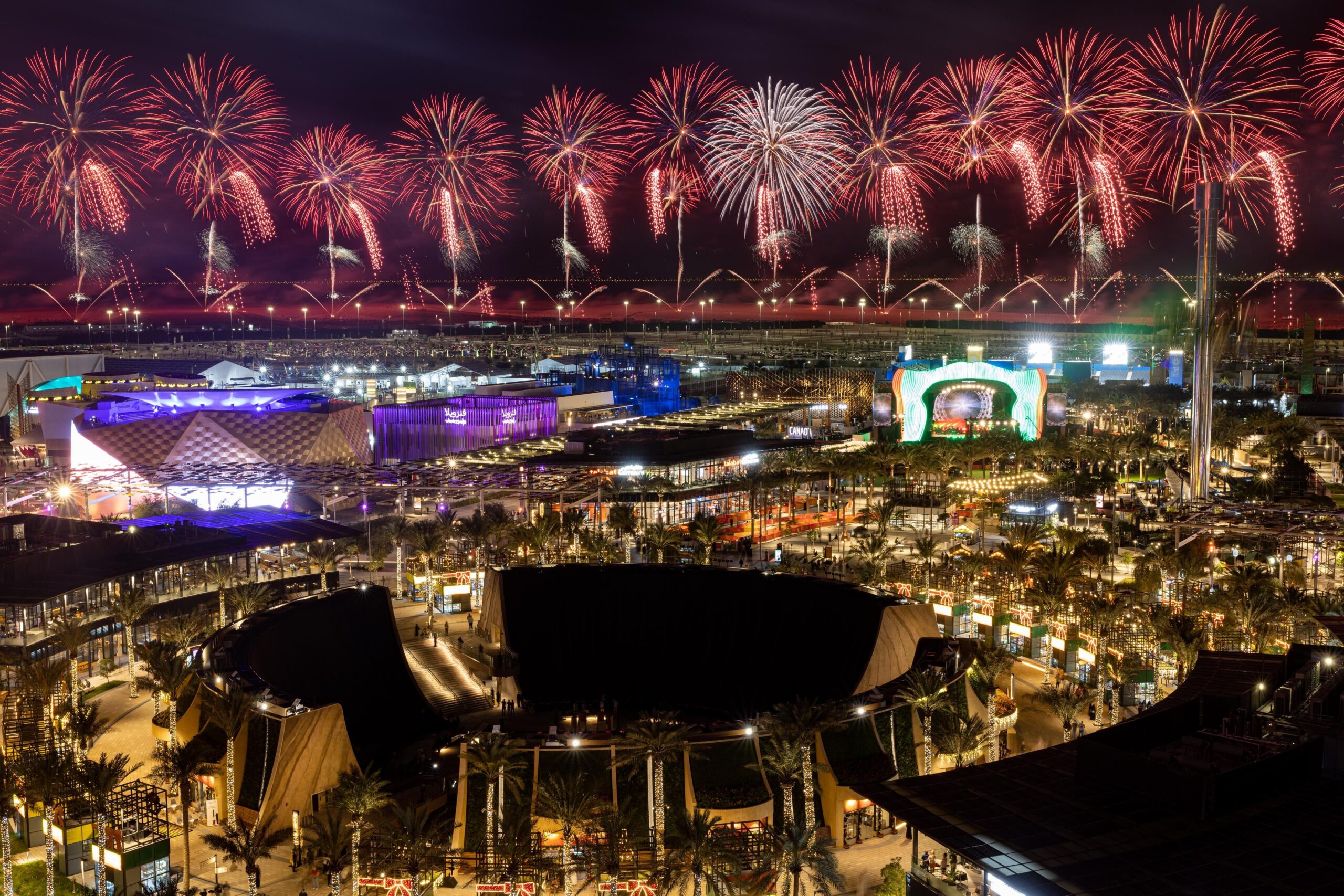 As the event will take place at the cultural hotspot of Expo City Dubai, festival-goers will enjoy state of-the-art facilities and a full set of services for every need. A combination of art, culture, and luxury, accompanied by Dubai's beautiful winter, will ensure that this 4-day musical extravaganza will be epic, fun, and enlivening, becoming a truly phenomenal event, adding another slice of excitement to Dubai's already bustling entertainment scene.
The festival's stages will be extraordinary, with the most spectacular performances unfolding. From unparalleled lighting effects and shining lasers to a sophisticated sound system and a myriad of mind-blowing visuals, the setup will engulf everyone in a magical sensory journey, with every performance leaving attendees utterly captivated at every moment.
With Dubai being such a vibrant city, it is the ultimate destination to host this sensational spectacle. UNTOLD Dubai will pull out all the stops to ensure it reaches the pinnacle of musical majesty and entertainment.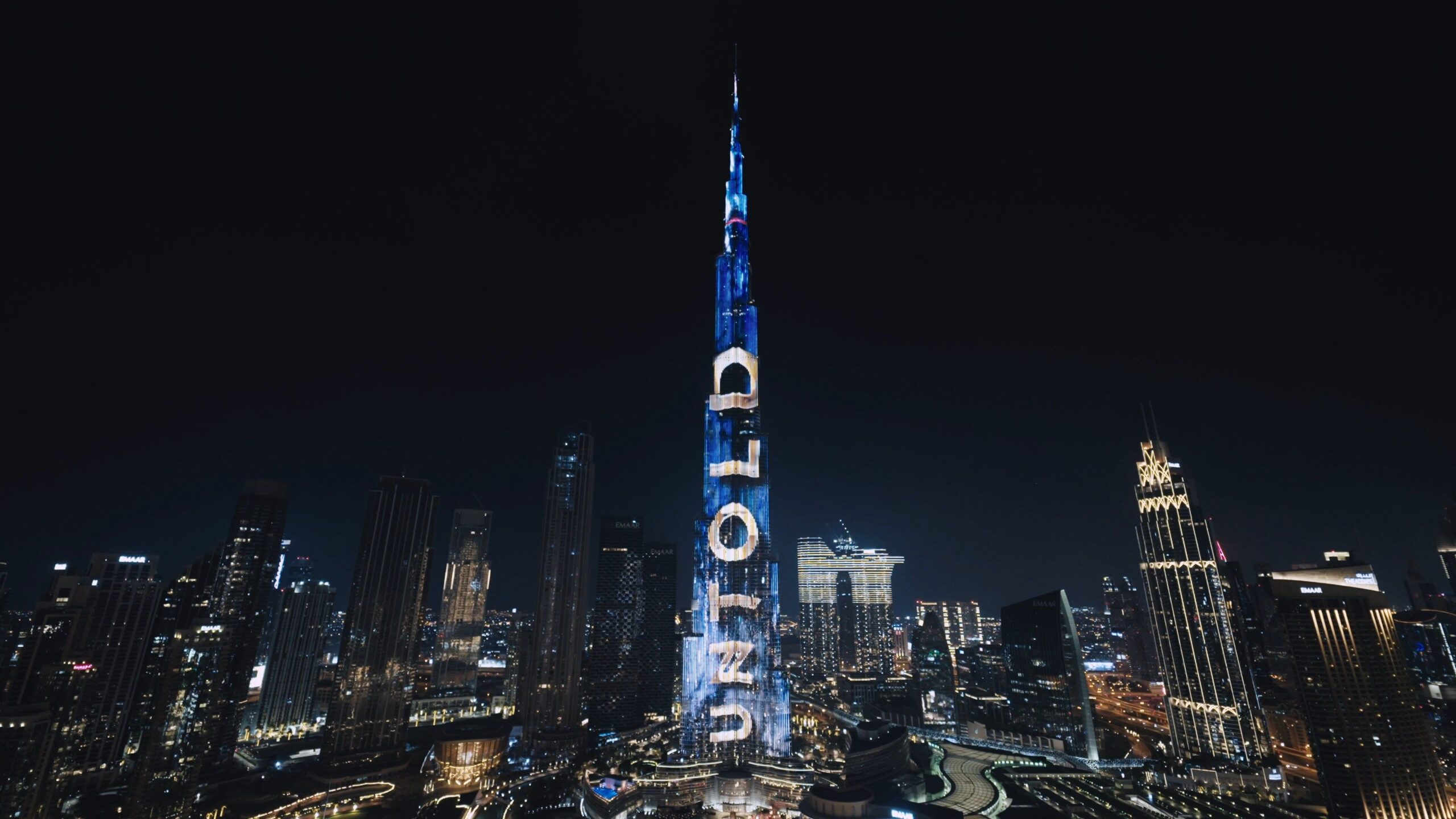 UNTOLD Dubai is set to upend the region's music and cultural scene by being a trendsetter and excelling at every metric. Bringing a sensational lineup of top international acts, this fully immersive, 4-day festival marks the first time the event will be staged outside Europe. The event will also be a key highlight of Dubai Calendar, the official listing platform for events in the city.
The phenomenal UNTOLD Dubai is not to be missed, and over 21,000 passes have already been sold, so make sure to head over to the official website to secure your tickets, which are on from November 10, 12:00 PM EET, with general passes starting from 185 euros. The prices will go up from November 15.