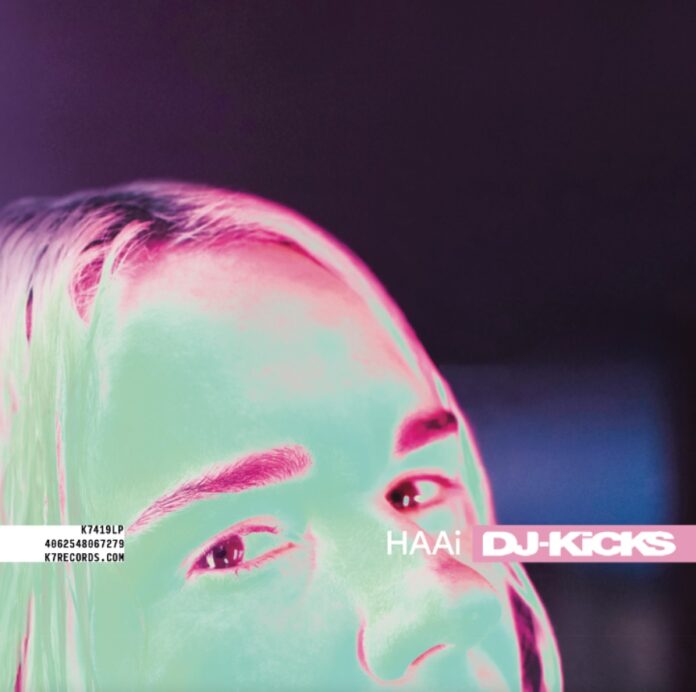 The visionary mix unveils three new HAAi tracks alongside superstar productions from the likes of I.Jordan, Koreless, Jon Hopkins, The Blessed Madonna, and many more.
Always chasing her next musical milestone, Australian DJ, producer, and singer HAAi continues to climb the sonic stairs of success with her new release– the latest instalment of the iconic mix series, DJ-Kicks.
In picking up the DJ-Kicks torch that's been carried by electronic greats like Four Tet and Tiga, as well as legends before them such as Carl Craig and Kruder & Dorfmeister, HAAi proves herself as one of the most head turning acts in dance music today. The compilation sees HAAi unveil three previously unreleased tracks throughout her audacious and eclectic new mix, allowing her effortlessly rebellious sound to shine from start to finish. Out now on !K7 Records, HAAi's much-anticipated DJ-Kicks compilation makes for the perfect soundtrack to the pending long, winter nights.
On her DJ-Kicks, HAAi comments:
"I'm so proud to share this DJ Kicks mix filled with music from people who inspire me the most. The exclusive tracks were produced using the brief "always ascending" and interpreted uniquely by each artist. I wanted this mix to feel like a continual ascension to collective euphoria. A collection of tracks from friends and heroes new and old. I. Jordan, The Blessed Madonna, Surusinghe, Manni Dee, DJ PGZ, Koreless, Joshua James, Cocktail party effect, as well as three exclusive tracks of my own. Including the title track 'Always Ascending'. A collaboration between myself x Jon Hopkins x KAM-BU. This was made with great love and care. I hope it finds a special place on your record shelf."
Viewed as much more than an opportunity to highlight her dynamic mixing and world-renowned selections, HAAi makes the most of her DJ-Kicks showing by unlocking the production vault and gracing fans with three fresh originals, SHiNE, ZiGGY, and Always Ascending. The latter sees HAAi hit the studio with friends and U.K. sensations Jon Hopkins and KAM-BU, churning out an evocative reimagining of the title track from HAAi's 2022 LP, Baby, We're Ascending.
Commenting on the featured track alongside Jon Hopkins and KAM-BU, HAAi says, "KAM's lyrics have so much meaning and heart and combining that with Jon's incredible synth sounds really tied everything together. The track is about togetherness, love and self-belief."
HAAi's contribution to the DJ-Kicks legacy comes amidst her coveted ongoing tour schedule, following Herculean extended and all-night sets across Paris, Bristol, and London. Fans who have their spark lit by the new compilation remain in luck, as HAAi is poised to grace everywhere from the Skrillex-curated Warehouse Project event in Manchester on November 14, to marquee shows in Paris, Los Angeles, Miami, and London before the year comes to a close.
Find the new release on streaming platforms everywhere, or treat yourself (or a friend) to the CD or 2LP bundle, with the latter brimming with exclusives.
Purchase the CD HERE.
DJ-Kicks: HAAi TRACKLIST:
1. HAAi – Intro
2. Lähetys/Transmission – Pan Sonic
3. HAAi – ZiGGY
4. The Blessed Madonna – Strength
5. Jaco – Show Some Love (Rhythm Invention Remix)
6. Agoria – Boomerang
7. HAAi – SHiNE
8. Manni Dee, River Moon – HOT
9. I. JORDAN – Life On The Wing
10. Perc & Fractal – Up (Perc Remix)
11. Radiotrance – Plasma
12. Tunnidge – Geddeon
13. Surusinghe – Bet
14. Cocktail Party Effect – Make It Undone
15. Koreless – Seven (Drumhell)
16. Christian Smith, John Selway – Total Departure
17. HAAi x Jon Hopkins x KAM-BU – Always Ascending
*PGZ – Quality High
*Joshua James – We Go Again
*unmixed exclusive tracks