Diplo comes out as being "Half-Gay"!!!, so did the DJ just confirm his bisexuality?
On Monday evening, Diplo took to Twitter and may've casually dropped a truth bomb about his sexuality, as he said to the openly-gay rapper Angel Haze in a tweet that he's "only half gay".
@diplo im only half gay too. lets 💗

— FRïDA FRîDA FRīDA (@AngelHaze) June 14, 2016

Тhis is not the first time he has spoken about his sexuality. In a 2014 Reddit AMA, Diplo said that "everyone's a little bit gay".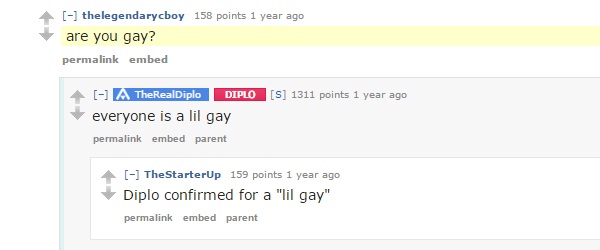 Diplo also shared a post on Instagram in which he recalls his experience growing up in the Orlando club scene.
He writes:
I grew up in the clubs in Orlando . It's where I went when I first left my parents house after high school.. I got fascinated w music and learned quickly . It was easily the most sophisticated club scene in America for a long time. Places like icon and Firestone and cyberZone.. As a kid in rural road Florida I would drive an hour home late night after going to see a dj or a band. The worst thing that could happen is the cops might shut down a rave. Some of us only had these places to go to get away from our shitty jobs waiting tables at restaurants or Disney or mowing lawns or parking cars. It could be any of our children enjoying themselves feeling safe in a moment like this with their life taken by a random violent act. These are the places where I work everyday and it's sad and confusing that the one place where you can be yourself and leave everything outside for a moment can be taken from us. I grew up in a beautiful place in Florida and I wouldn't be the person I am if it wasn't for the diversity I experienced as a kid. I pray that this is he last time I have to read a story like the one about pulse night club