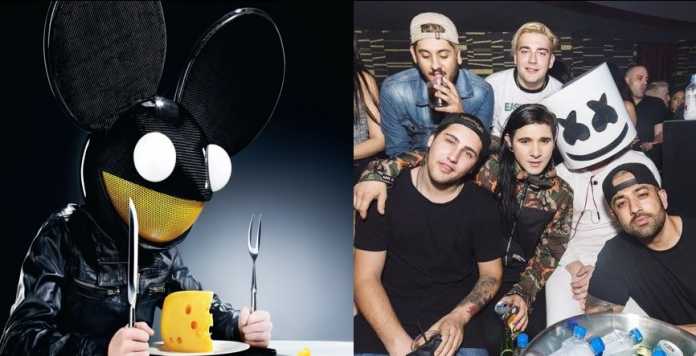 The Canadian Dj and producer, Deadmau5 slams Marshmello and the whole OWSLA crew on Twitter.
As we said in our previous article, few days ago, the mysterious masked DJ and producer Marshmello made his debut on Skrillex's OWSLA label with a powerful new track and video featuring vocals from Los Angeles pop musician Wrabel.
The first version of the video has been taken down – when searching for it, it just comes up at "video has been made private" – following some less then flattering words from Joel on his Twitter profile.
Yesterday, Wrabel posted a cameo scene on Twitter, saying he is "so proud to be a part of this." One of his fans responded, question why Wrabel chose these specific 20 seconds with Deadmau5 on the video and Joel somehow found it and levied his own opinion on the matter.
so proud to be a part of this…

music video of @marshmellomusic's "Ritual"

ft. yours truly : )

out now @OWSLAhttps://t.co/IUBHq8Dgoe pic.twitter.com/OCzPRU1btY

— wrabel. \rā-bəl\ (@wrabel) November 7, 2016
@wrabel @marshmellomusic @OWSLA i wonder why you guys chose these 20 seconds of the video lmao

— Joël F. (@ThatsInterester) November 7, 2016
Because it's the most attention they'll get for it. Owsla is essentially a buncha hipsters jerking off over me not liking things. https://t.co/QWrghczAq2

— dead mow cinco (@deadmau5) November 8, 2016