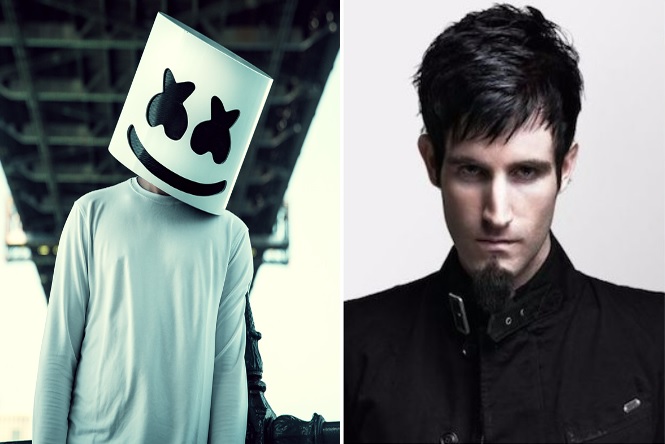 While Deadmau5 is usually the name that comes up when hearing about Twitter beefs, this time he stayed out of it.
The Australian singer-songwriter who is also known to not shy from voicing his opinions, recently decided to take a jab at the mysterious masked DJ and producer, Marshmello. He makes it clear that he's simply not satisfied with his music and kinda seemed annoyed. Swire later goes on a rant taking jabs at Knife Party saying they should have stayed in Australia sucking di*ks. I think he's drunk.
DnB pioneers Chase and Status chimed in to side with Swire about the overall annoyance of Marshmello and his famous white bucket. Marshmello would take the high road and comment saying, that no matter what Swire and Chase and Status think of him and his music he will always respect what they've done for the music world.
Take a look at their exchange below.
Positive tweets from DJ's with fucking marshmallows on their head thanks for the notification, twitter

— Rob Swire (@rob_swire) June 27, 2017
Glad you're enjoying them rob.

— marshmello (@marshmellomusic) June 27, 2017
Knife Party are sellout idiot cunts who should have stayed in Australia doing what they do best: sucking dick for lunch money

— Rob Swire (@rob_swire) June 28, 2017
Couldn't be more spot on as always Rob

— Chase & Status (@chaseandstatus) June 27, 2017
The guy with the marshmallow on his head has 300k more followers than you and is killing it right now sooo I sense some jealousy ‍♂️

— Ken (^ ‿ ^) (@notoriousken) June 27, 2017
U know what's dope? Surrounding yourself with positive people who push you to be the best you can be. The world already has 2 many haters

— marshmello (@marshmellomusic) June 26, 2017
Guys like @rob_swire and @chaseandstatus are pioneers of our craft and regardless of their thoughts on me I will always admire them #respect

— marshmello (@marshmellomusic) June 27, 2017