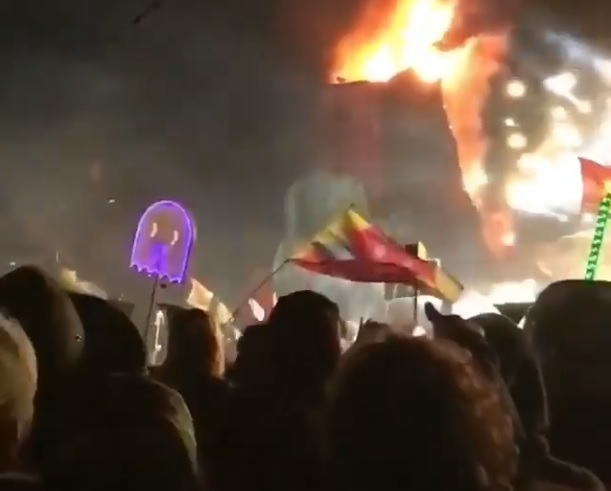 During the festivities at Excision's inaugural bass music festival last night, Destroid played and one of the structures surrounding the Lost Lands main stage caught fire.
We throw around the term 'fire' around a lot these days. This new track is fire. That live set is fire, That festival fire … However, on Day 2 of Excision's new festival Lost Lands, the vulcano structure near the main stage literally caught on fire.
The festival was temporarily shut down, however after approval from the fire marshal and the sheriff Lost Lands' main stage was back up with Zeds Dead playing on it.
Excision posted a statement in the official 'Headbangers' Facebook group:
"Headbangers! Destroid was lit!
We were temporarily shut down due to a small fire at the top of the volcano. On hand fire personnel quickly had it under control and the fire was immediately extinguished. After approval from the fire marshal and the sheriff, we've started back up again and Zeds Dead is on stage killing it right now! Thanks everyone for your concern, Lost Lands goes on!"
Check out the videos below.
THE STAGE CAUGHT ON FIRE pic.twitter.com/5pu6cAUJsz

— Greg ➡️ Lost Lands (@GregTalksHockey) October 1, 2017
Meanwhile at lost lands lmao pic.twitter.com/aBLmyJrvvi

— Bones (@bonesmohr) October 1, 2017