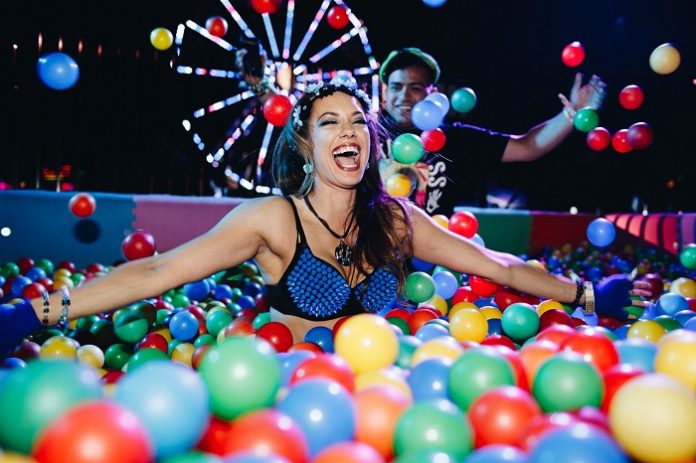 VIP Headliners will get to Explore, Engage, Energize and Enjoy with a variety of special amenities available only with the purchase of a VIP ticket. Special features include dedicated dance areas at seven stages, a fast pass for carnival rides, VIP ball pits, oxygen bars, body painting and more.
VIP Headliners will celebrate three days Under the Electric Sky May 18 – 20 with an elevated experience at North America's largest and most anticipated dance music festival, EDC Las Vegas, with a variety of exclusive offerings.
Fans from around the world will explore new viewing areas, engage in exciting activities, energize to keep dancing all night long, and enjoy exclusive amenities to create the ultimate festival experience.
For the first time in EDC Las Vegas history, kineticFIELD will host a splash pool complete with floaties and lifeguards to keep fans cool and safe. The Gypsy Shrine will also adorn Headliners with their famous glitter and jewel bar to create custom, electrifying looks.
Full VIP areas will allow VIP Headliners the best vantage points at four of EDC Las Vegas' stages, including kineticFIELD, circuitGROUNDS, neonGARDEN and quantumVALLEY which will feature a variety of food options, activations and fully-stocked bars.
In addition, dedicated VIP dance areas will be available at cosmicMEADOW as in years past, as well as bassPOD and wasteLAND – which is new to the festival this year. neonGARDEN and quantumVALLEY will both have dedicated VIP entrances, allowing the best vantage point for trance, house and techno fans to see their favorite artists.
Additional VIP amenities include:
Complimentary Beats & Breakfast at kineticFIELD every morning from 4 to 5:30 a.m.
Charging Stations
Complimentary Hookah Lounge at neonGARDEN
VIP mobile charging lockers available for 1, 2 or 3-day rental at circuitGROUNDS and
quantumVALLEY
Dedicated VIP Festival Entrance
Dedicated Gourmet Food Trucks
EDC Unity Wall – share your message of love
Dedicated VIP fast-pass lanes for various carnival rides located in GA
Giant Jenga, Pool Table, Ping-Pong, Connect Four, Chess and more
Kandi Making Station
Complimentary Oxygen Bar
The Gypsy Shrine – Complimentary Beauty Bar
VIP Ball Pit at kineticFIELD
Water Refill Stations
For a full list of VIP amenities and to purchase VIP tickets via link.