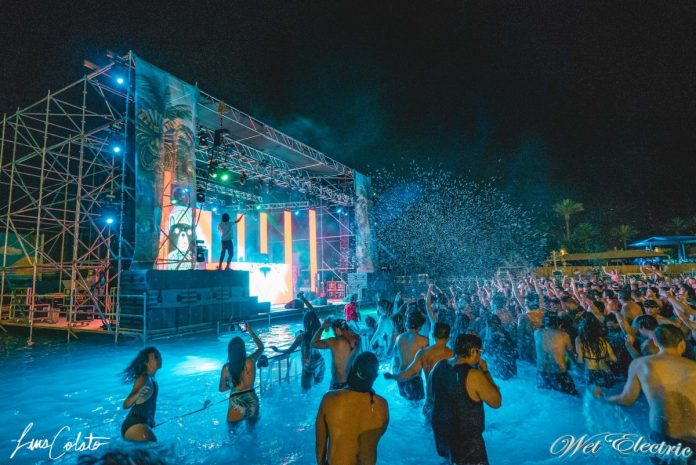 Over the past weekend, Big Surf Waterpark in Tempe, Arizona was transformed into a giant wet electric wonderland. The event is tabbed as North America's largest pool party, and yet again, 'Activated Events' delivered.
If you live in Arizona, you know how the weather goes. You also know since it's summer, it's probably time to hit the pools. With the temps being in the mid 100's, Arizona's very own Wet Electric was definitely the place to be.
Upon entering the park, your immediately greeted with a massive 2.5 million gallon wave pool along with several towering water slides. If you planned ahead, you probably purchased a locker to store all of your belongings, which saved the day. The grounds were scattered with awesome bars and booths for beverages and other fun delights.
The festival offered concertgoers two great stages, one was found floating in the wave pool while the 'RBDEEP TAKEOVER' stage was off to the left in the shade. The event also offered VIP areas with separate tropical cocktail bars, bean bags and even cabanas. Check out the full lineup below!
This years lineup saw some pretty big headliners including the Canadian duo of Adventure Club, Bro Safari, SNBRN and fan favorite, Dr. Fresch. We had the opportunity to see a new group who called themselves 'Sevenn' and they quickly blew us away.
After looking them up, we realized they have been around for a few years. If you haven't heard any of their music check out, Colors of the Rainbow on Soundcloud, you might surprise yourself.
Another more well known artist who really killed it was, Crizzly. The San Antonio youngster took the stage with confidence and dropped one hell of set that perfectly blended his usual sounds of dubstep and hip-hop.
Dr. Fresch, who started his DJ career by winning Insomniac's Discovery project showed us all why he's no longer a rookie and had the entire place rocking. Over on the RBDEEP stage, SNBRN was sending out cool vibes as he dropped his signature deep house sounds while others like Worthy and Codes kept us going all evening.
To close out the night Adventure Club really stepped up and delivered one hell of a performance. Over the years, I've had the opportunity to see this duo and it seems like each time just gets better and better. The multi talented groups ability to mesh dubstep with melodies is like none other. The cool, calm and collected duo sent us all home wanting more after dropping, "Need your heart" & "Crave you."
Overall, the event was a perfect blend of waterpark fun and rave craze. Attendees had everything they needed right at their fingertips. This is my second year attending, and I will be back next year.
Check out more photos and cool stuff at Relentlessbeats.com