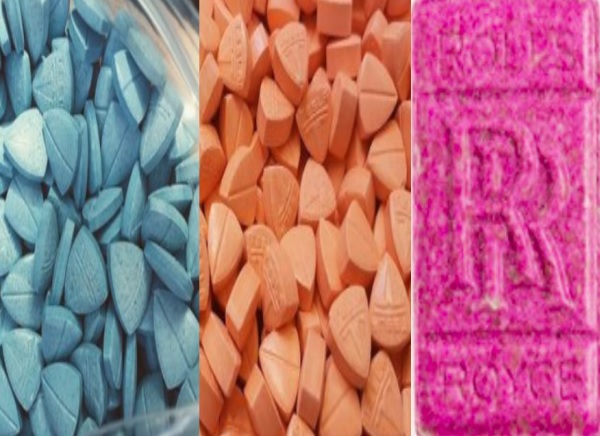 We live in a strange time where there are a plethora of companies and programs dedicated to testing drugs and making sure that they are safe. On the flip side, we also run into the problem that there are more bogus drugs now then ever before.
A company called The Loop is attending festivals with the goal to test as many drugs as possible. They have found that a majority of MDMA brought to them to be tested contains little to no MDMA at all.
Below you can see a few different ecstasy pills that are in circulation and can be deadly. They include a blue punisher pill, a silver bar, and a pink heart.
If you do choose to consume drugs at a festival make sure to get them tested and stay safe!
ALERT: Pink heart pill tested yesterday in Bristol city centre. Sold as ecstasy but found to contain n-methyl pentylone, 100mg. This is a v high dose of this unpleasant, long-lasting stimulant. If you are at @LSTDbristol & are feeling unwell, please seek welfare or medical staff. pic.twitter.com/okCETdTdkk

— The Loop (@WeAreTheLoopUK) May 26, 2018
ALERT: Blue 'Punisher' pills (a skull logo in a superman shape) tested today at @LSTDBristol found to contain >300mg MDMA. This is 3-4 times a typical expected dose. Common harm reduction advice is start with a quarter and regularly sip water! #startlowgoslow pic.twitter.com/T4BsROy0jN

— The Loop (@WeAreTheLoopUK) May 26, 2018
Silver Bar tablets in circulation since 2015 with many different batches, some 4x more MDMA inside than others. Name, reputation and appearance of a tablet can't be trusted – always test. #TimeToTest #lovesavestheday pic.twitter.com/jsdLq44hHV

— The Loop (@WeAreTheLoopUK) May 27, 2018