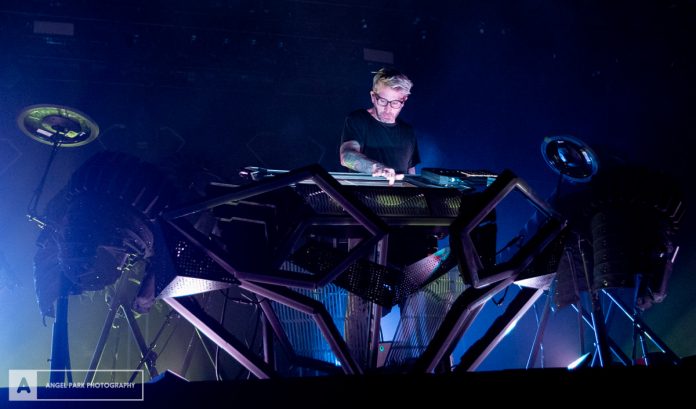 L.A based trio The Glitch Mob have been pioneers of their unique, instrumental sound since debuting in 2010 with their album, Drink The Sea. Since then, these three have made themselves a standout among the electronic music scene with their intricate, unmatched instrumental compositions. In addition, they've provided some of the most stunning live visuals we've seen to date, thanks to their fully customized Blade 2.0 system.
The Mob, along with support from eccentric singer/songwriter Elohim, and city local Tiedye Ky, provided Philadelphia with an evening of captivating sight and sound as part of the 'See Without Eyes' tour.
Producer Tiedye Ky started off the show with his dynamic, fresh tracks that set the tone for the evening. His set was then followed up by Elohim, who reeled in the audience with her mysterious persona and experimental take on pop music.
Lastly, there were Glitch, who closed the show with over an hour of their legendary tracks that reverberated across every inch of the venue. Live, the trio have a powerful presence unlike any other and deliver each note with an expert precision that is fascinating to witness.
The Glitch Mob are currently continuing their tour to promote their latest album 'See Without Eyes.' For more information about the tour, click HERE!
Check out our full photo recap from the event below: