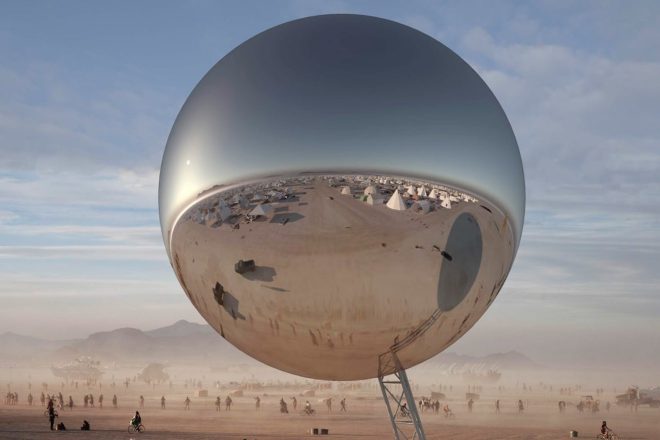 There's a brand new art installation coming to Burning Man this year and it's massive!
New to the incredible gathering will be a larger than life mirror ball that stands 100 feet tall. This new feature is said to be a beacon for festival-goers at this years week long party.
The structure has a diameter of almost 105 feet and is essentially a 30-ton disco ball. Danish architects led by Bjarke Ingels are calling it, "The Orb" and claim the mega feature will be supported by 105 foot long inclined steel mast.
"The ORB is a mirror for earth lovers – reflecting the passing daytime, evolving life and other art works beneath it – a new planet to sci-fi fans, a wayfinder for travelers or just a huge disco ball to those who love a good party!
"Visible from most of The Playa, it will help Burners navigate the desert and find way. At night, the ORB will blend entirely into its surroundings and become part of the desert. The ORB is a tribute to mother earth and human expression – designed to easily inflate and deflate, leaving no trace on the Playa."
According to The Orb's indergogo crowdfunding page, the artists have paid for the majority  of steel material and welding projects. An additional $50,000 in donations is needed to complete and ensure the installation and safety of, The Orb and Burning Man as a whole.
Check out the video below!