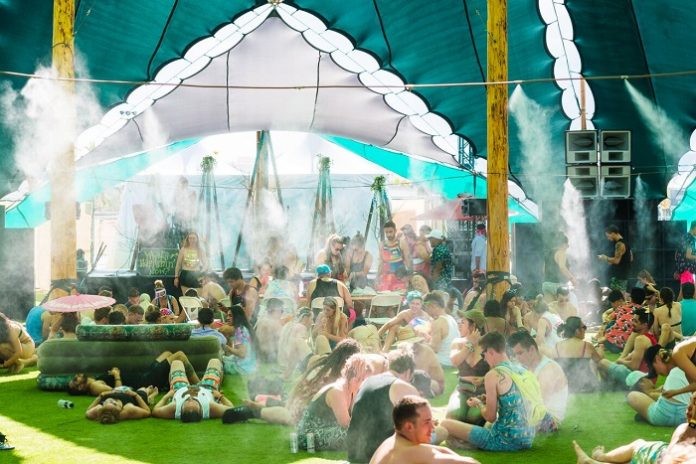 Following the success of the first-ever Camp EDC at Electric Daisy Carnival Las Vegas in May, Insomniac announces details and ticket information for the enhanced Camp EDC 2019 experience, which will return to Las Vegas Motor Speedway Thursday, May 16 through Monday, May 20.
With more than 20,000 Headliners anticipated for Camp EDC 2019, Insomniac is unveiling new experiential activities and improved amenities to the grounds to create the ultimate experience for campers. Camp EDC passes for Moon Glow and Desert Rose Shiftpod camping as well as RV camping will go on sale on Friday, Oct. 5 at 10 a.m. PST.
"Last year's wait times were unacceptable. Fixing that and other processes is one of our main focuses for Camp EDC," said CEO and Founder of Insomniac, Pasquale Rotella during a recent Reddit AMA.
"We've had many planning meetings just about this. We will have a revised entrance plan that includes more lanes with more people working, check-in staff will be more experienced, and we'll have better processes all around without sacrificing the safety of you, the Headliner. We're also extending check-in hours to spread out the traffic ingress and adding in additional bathrooms and showers along with more waste removal services."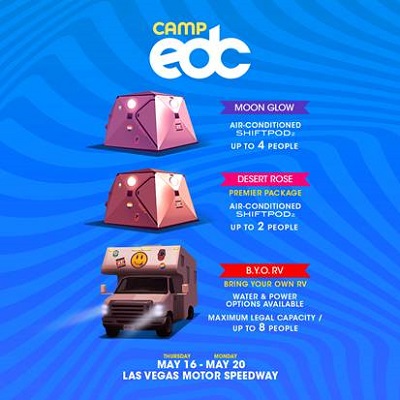 Last year, Camp EDC transformed the grounds of the Las Vegas Motor Speedway, providing the quickest and most efficient entry into the festival each day with a variety of camping and RV opportunities for guests.
Returning to the heart of Camp EDC, the Mesa will serve as the bustling hub of entertainment, activities, and amenities – creating an all-inclusive community experience . Headliners will once again have access to a vibrant array of activities and other new experiences including a kickoff party with special guest DJs, daytime pool parties, interactive art installations, gourmet food trucks, full-service bars and much more. Campers can also look forward to shorter wait times on arrival, a stronger power grid, more bathrooms, showers, improved site layout, wayfinding and more.
Providing safe and secure lodging, Camp EDC packages include fully closed, lockable, dust-controlled ShiftPod2 structures with comfortable artificial grass flooring, air conditioning, interior lighting, a power strip, and easy access to all the camping amenities with one vehicle pass. Full lodging options are detailed below, with layaway prices also available.
Moon Glow Camping (Starting at $999 plus taxes and fees): Accommodations for up to four people plus one vehicle pass. Bedding is not included. Layaway deposits start at $174.99.
Desert Rose Premier Camping (Starting at $1,299 plus taxes and fees): Accommodations for up to two people. Includes one vehicle pass, one deluxe queen bed or two single beds with linens and pillows, premier location closest to the Mesa, and access to the GA+ toilets inside the festival. Layaway deposits start at $199.99.
RV Camping (Starting at $279 plus taxes and fees): Accommodations for up to eight people. RV Campers will receive a dedicated RV site, access to all Mesa activities as well as showers and bathrooms. Water and power can be purchased separately. Layaway deposits start at $49.99.
Passes for Camp EDC 2019 go on sale beginning Friday, Oct. 5 at 10 a.m. PST via link.
Relive the inaugural camping experience to catch a glimpse of what's in store for Camp EDC 2019