This Fall brings a new release for revered artist INNA, as she presents her single 'No Help', a song which is set to light up globally in the coming weeks.
Accompanied by an official music video, INNA usually shoots her videos across the world & this time, filming took place in Los Angeles & Morocco and the visuals are spectacular, also seeing the artist present a daring new look. Directed and filmed by NGM Creative (Bogdan Pun director and Alex Murean DoP), with whom she collaborated previously on singles 'Nirvana' & 'Pentru Ca', INNA comments; "This fall starts with 'No Help' and it will follow with more music, because I'm releasing my forthcoming album 'YO'. I am very excited, I put all my soul and energy into these tracks that I've fully written, I'm excited about these songs."
2018 has been a busy year so far for INNA, having already released her single 'Pentru Ca', featuring The Motans – which has amassed over 12 million views on YouTube, the single has also been widely broadcast across radio in her native Romania & she's performed live in Mexico, Turkey, Finland, Spain, France & The Dominican Republic.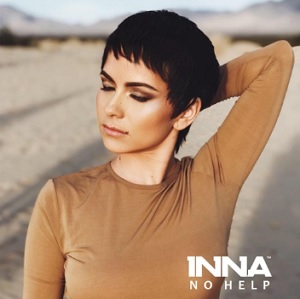 In recent months, INNA has been spending alot of time in the studio with David Ciente, producer of the album 'YO'. Four of these songs 'Si, Mama', 'Locura', 'La Vida' and 'Iguana' were released through a special project, an album released exclusively in conjunction with Coca Cola, Zero Sugar.
Stay tuned as 'No Help' blows in the coming weeks & INNA returns in fine style.