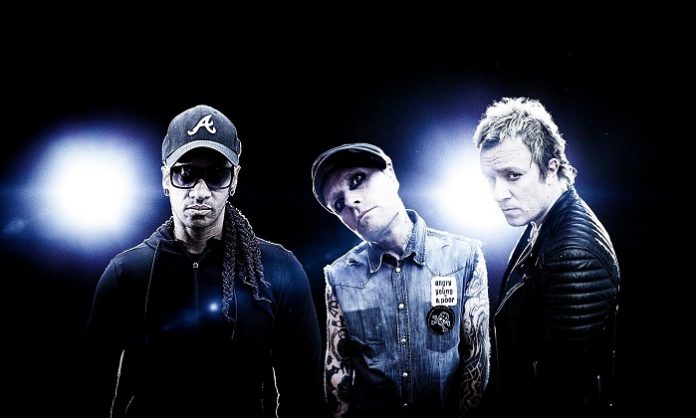 In support of their critically acclaimed seventh studio album 'No Tourists,' iconic English electronic music band The Prodigy will embark on their first tour of North America in eight years.
Known for blurring the lines between rave and punk music, The Prodigy will be appearing at some of North America's finest heavy music festivals this spring including Welcome to Rockville, Epicenter Festival, Sonic Temple and Chicago Open Air, with more dates to be announced soon.
The Prodigy will bring their unique sound to festivals stacked to the brim with modern rock luminaries including Foo Fighters, System Of A Down, Ghost and Tool, among others.  
The Prodigy have also unveiled the arresting video for new single 'Timebomb Zone', which can be seen here. The explosive, cinematic video was filmed in Manila and again directed by Paco Raterta, who The Prodigy collaborated with on the short film for 'Need Some1'.
It's a suitably visceral visual accompaniment to the track and indeed 'No Tourists', with its global themes of frustration, escapism and fighting back.
"Paco was our only choice to create the video for 'Timebomb Zone," says Liam Howlett.
"What he brings visually has a real different edge, tension and danger to it ….it fits perfectly with the music we make."  
 'Timebomb Zone' is a striking highlight from 'No Tourists', an album which sees The Prodigy join the ranks of Paul McCartney and Elton John in achieving seven UK number 1s (no other electronic act has done this). 
Here is a group who from day one dominated the illegal rave scene, challenged anti-rave legislation and redefined the whole idea of what a band should be like. They brought UK electronic music to the US heartland, turning metal kids onto raving and ravers into metalheads…effectively reaching global audiences without compromise: seven number 1 albums, 30 million record sales, and multiple honours (two Brits, two Kerrang! awards, five MTV awards, two Grammy nominations).
The urgency of 'No Tourists' arguably appears to have tapped into (says Howlett) a wider need for escapism. 'It's about the want and need to be derailed and not to follow that easy set path. In these times we live in people have become lazier and forgotten how to explore. Too many people are allowing themselves to be force fed, with whatever that may be. 'No Tourists' is about reaching out further to find another alternative route where the danger and excitement may be to feel more alive… not accepting that you can just be a tourist. That's what the title is about for us."
'No Tourists' has seen The Prodigy return with venom in the way that only they can. They're renegades, outsiders, outlaws – always hiding in plain sight. Though much has changed in the musical and social landscape, what remains a constant – as well as their unbeaten streak of number 1 albums – is The Prodigy's resolute focus to always do things their own unique way. The remarkable success of 'No Tourists' suggests that in 2018, the urgency and irrepressible spirit of The Prodigy has also never been more needed.

Stream 'No Tourists' here
NORTH AMERICAN TOUR DATES
May 3: Jacksonville, FL – Welcome to Rockville
May 10 – Rockingham, NC – Epicenter Festival
May 18 – Columbus, OH – Sonic TempleMay 19 – Chicago, IL – Chicago Open Air