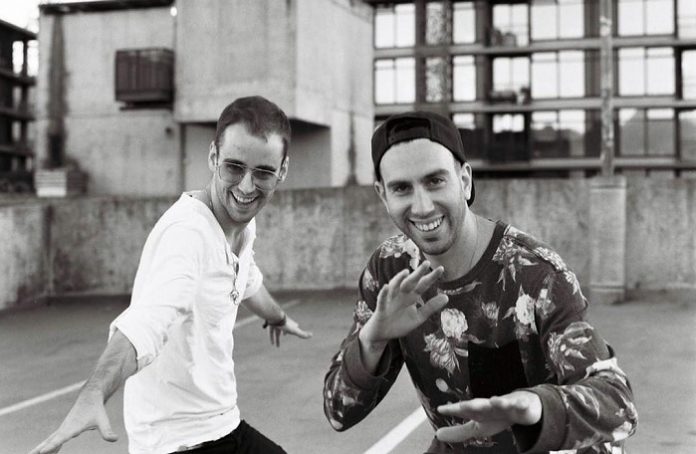 PINEO & LOEB return with ELEVATION, a full-length album of cover songs in a wide array of electronic styles, completely reimagining tracks from nearly 40 years of music with a modern sound.
Written over the course of a full year of production, PINEO & LOEB seek to breathe new life into both personal favorites and some of the most iconic songs of all time, combining the best of contemporary electronic styles with the timeless nature of these amazing songs.
Putting their spin on tracks from legends like Led Zeppelin, Prince and Michael Jackson, to more modern favorites like Daft Punk, deadmau5, and Arcade Fire, the main goal being to stay true to the soul of the original while building something completely new from it.
Backed by a team of incredible collaborators from across the globe including Rich Aucoin, Liinks, MC Flipside, After Funk and many more, they gender flip songs, form duets and combine vocal and musical talents to carve new fresh sounds from our shared pop culture history.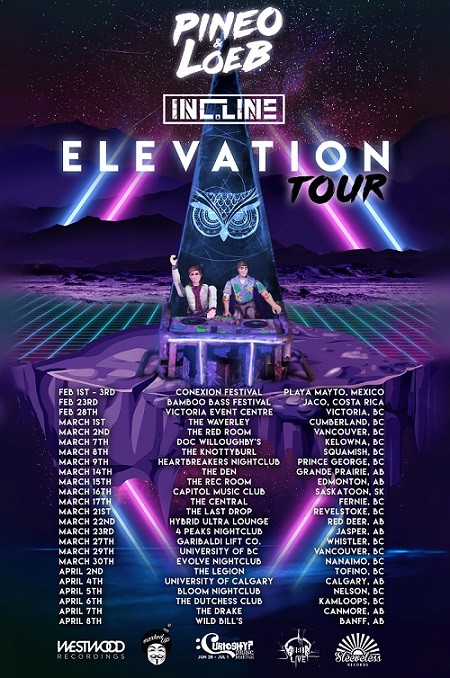 After PINEO & LOEB's 2017 full-length debut original album LIFEBLOOD on Westwood Recordings, they were inspired by incredible new cover versions of all time classics on services like Spotify and Sirius XM radio and felt there was untapped potential in integrating the grandiose compositions of the past with fresh modern beats and production techniques. The resulting album, ELEVATION is a sprawling love letter to the past with as many as 7 collaborators on a single track to achieve the most exciting and beautiful result possible.
From Sparkee's soaring guitar solo over a slamming house beat in a cover of Daft Punk's Digital Love to a hip-hop take on the sentimental lyrics of Arcade Fire, many different musical heights are reached, breaking new ground for PINEO & LOEB and electronic music as a whole.
Some tracks stay faithful to the original songs closely while pushing the sound and production into the modern day with beats inspired by styles such as trap and ghetto-funk, others add new lyrics of their own that build on and expand the themes of the song, such as Def3's standout rap verse on a cover of The Verve's Lucky Man: "Trying to figure where I fit in, in this Fibonacci sequence".
Much of the album was composed on the road during PINEO & LOEB's cross-Canada LIFEBLOOD tour in 2018, channeling emotion from passed on legends like TLC's Lisa 'Left Eye' Lopes and personal struggles during the writing. This record marks the first release to feature vocals from both PINEO & LOEB on various tracks throughout. The album opens with Earth Song and closes with Stairway to Heaven, reflecting the concept of figuratively bridging the Heavens and the Earth through music.
PINEO & LOEB created cover versions of over 30 songs in the development of the album and worked it down to 12 unique tracks designed to create a unified transcendent listening experience in 48 minutes.
PINEO & LOEB have shared their love for the past before in 2016's Morning Maniac Music, a mixtape of classic rock remixes of artists like The Doors, David Bowie, and songs like "Don't Fear The Reaper", even receiving acclaim from Blue Oyster Cult's front Man Buck Dharma for their work.
The artwork for the new cover album ELEVATION, created with the help of Halifax's Sean Snow and Tim Tracey shows the two producer/DJs as custom G.I. Joe figures (first seen in the new music video for fan-favorite, Circles) at a DJ table in front of a towering monolith in a psychedelic landscape.
ELEVATION can only really be described as "an experience" with songs you likely know and some you probably don't, but all work to take you to a higher level of love through the power of music.
Listen to the tracks here.