With a sound quality that surpasses all other mixers, a user-friendly layout, and multifaceted capabilities, the superlative Xone:92 is the nonpareil professional mixing device that is allowing its users the ability to unleash their musical capabilities by involving every intricate sound that is intended to be heard by the music maker.
The flowing interfaced, heavy-duty, six-channel analog mixer blatantly outmatches the competition with its world-class sound quality. It gives the music an opportunity to be heard in its original format and unlocks layers in tracks that are typically tuned out by other devices.
The inexorable Xone:92 has worked its way to the top of the music industry, for it is currently uncontested in its dominating stance as the industry standard professional mixing device. Most of the top DJs and producers around the globe use it during performances, and it is also the stationary mixer at premiere music festivals, venues, and superclubs internationally. Musicians that work with it even briefly immediately understand that it is the one.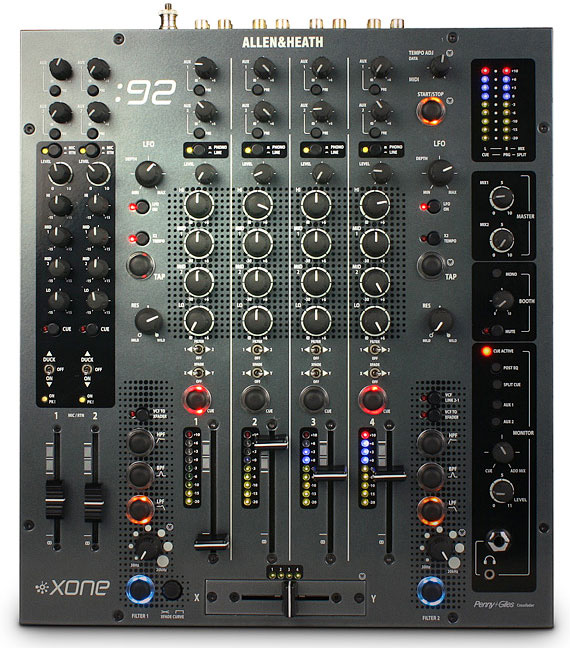 A dynamic EQ section with original, cutting-edge, duel VCF Filters sets it apart from the other mixing devices that are available on the market, and that alone is reason enough for users to incorporate the Xone:92 as their quintessential piece of music equipment. Another aspect that makes it stand alone as the elite device is the fact that as part of an innovative movement, the unique equipment was one of the original professional mixers to integrate usage and control of MIDI through external devices and DJ software.
To coincide with the six duel stereo channels that enable users the ability to utilize all of their performance and production equipment on the exclusive mixing device, the mixer also has two independent stereo mix outputs, two aux sends for output to external FX units, and two independent LFO's for filter manipulation. A particularly stand out aspect of the mixer is that when vinyl records are being used, the Xone:92 taps into the spirit of the record and produces the unadulterated sound.

Other features of the elegant Xone:92 professional mixer are its illuminated pipelines that show the status of the performance controls, two stereo FX sends, and two mic returns, but it does not stop there. It also has four-band EQ with total kill on high and low frequency, booth output with a dedicated output on the TRS jack, MIDI values that can be output from six controls, intelligent cue for pre or post EQ monitoring, monitor selection including post EQ switch, split cue and mix to cue balance, two headphone outputs (1/4″, and 3.5mm), and ducking control on the mono/mic channel; it is the best mixing device in the universe.
Musicians often spend time bouncing around to different locations while performing and practicing, and it is critical for all music equipment to be durable. Obviously, toughness was one of the target goals when Allen & Heath were crafting the paramount mixer because it is a hardwearing device that will last the test of time.
The Xone:92 was constructed to withstand heavy usage without artists being concerned about wear and tear. Musicians can consistently use it while on tour without fear of damaging it, as well as during their most passionate moments of music performance and production; it will not let the user down.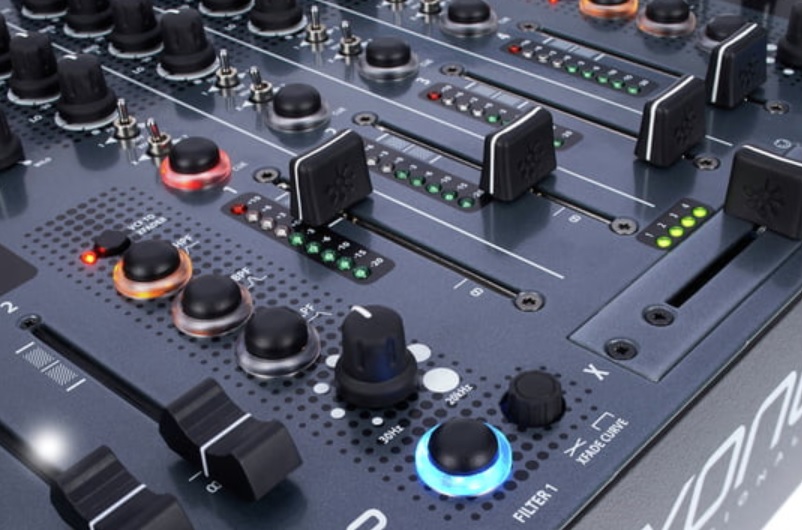 Established musicians and artists that are just getting started will equally benefit from the might of this powerful professional mixing device. It seems as if Allen & Heath wanted to give everybody the equal opportunity to be able to integrate flawless sound and control to all musicians, making it reasonably affordable to all classes of people.
The valuable tool is fair priced considering its worth, and it is equipment that will instantly give the user an edge. For those out there that want to use the superior equipment that is powering the professional music world, the search should end with the Xone:92.
Feature Summary:
6 dual stereo channels – 4 phono/line, 2 mono/mic or stereo return
2 independent stereo mix outputs
2 aux sends for output to external FX units
VCF system – 2 independent stereo filters with frequency and resonance controls
2 independent LFO's for filter manipulation
4-band EQ – total kill on HF and LF, wide Q for cut, narrow Q for boost
Booth output – dedicated output on TRS jack
MIDI values can be output from 6 controls (e.g. crossfader, LFO)
P&G easy change professional VCA crossfader
Illuminated lightpipes showing status of performance controls
Intelligent cue for pre or post EQ monitoring
Monitor section includes post EQ switch, split cue and mix to cue balance
2 headphone outputs (1/4" and 3.5mm)
Ducking control on mono/mic channel
Watch some of the world's leading DJs performing LIVE with Xone 92 below!
Jamie Jones
Andy C
Marco Carola