Lost Frequencies is a man of many talents and a musician with a genre-bending scope that many artists double his age would envy. Following his sold-out headline 'Less Is More' arena show in his home country of Belgium that saw 9.000 number of adoring fans enjoy an insane level of production, Lost Frequencies previewed his future live show to 20,000 anticipating Tomorrowland 2018 fans, and now, the wait is no more…
As he takes this fully live tour global for the inaugural time with a dozen dates split between both the U.S.A and Europe, Lost Frequencies will bring an innovative, fresh interpretation of his sound that so many have come to know and love, comprised of completely original material, compositions and presentations for 2019.
Throughout October and November, he'll be hitting L.A. and New York first, followed by Milan, Paris and of course his home country of Belgium, fusing together a never-before-seen stage design and light show with fully live musical elements, enlisting touring band members and on-stage live instrumentation to include drums, keys and special vocal interpretations as well as a whole lot of surprises.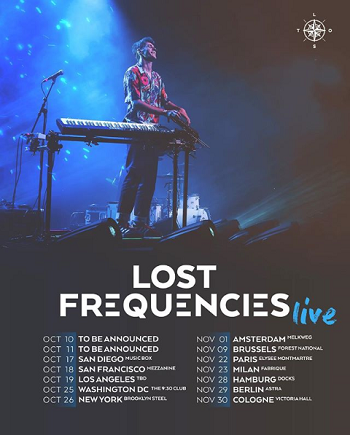 Off the back of a huge American headline tour and the great success of #1 tracks such as 'Crazy' with Zonderling, 'Like I Love You' and latest smash 'Recognise' – tickets will go on sale for Lost Frequencies Live at the respective pre-sale and general sale times and dates above.
Don't sleep on your chance to be the first to experience this all-new, highly-anticipated spectacle, coming in the winter of!