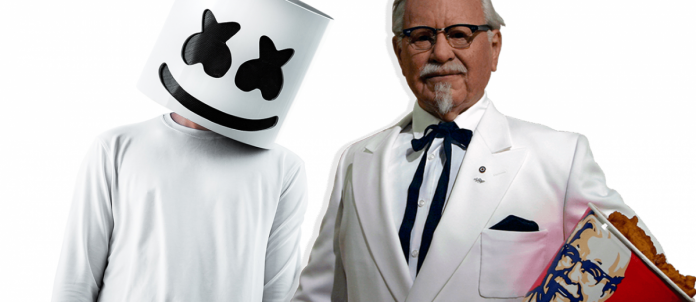 It seems as if nobody is quite sure what to think about the KFC representative in a Colonel Sanders helmet that attempted to rock the main stage for a few minutes at Ultra Music Festival on the first day of the event.
It is unclear the purpose of the PR stunt, and exactly what the intentions were during the roughly five minute chicken theme set, however, it did manage to spark the interest of American Producer and DJ Marshmello.
Typically Marshmello is a positive voice and uses his public platform to promote things instead of discrediting them, but for some reason he did not like the Colonel Sanders set and took to Twitter to denounce the happening.
Speculation from the EDM community is leading people to think that perhaps behind the mask was Mello himself, and that it is all some kind of get money grand conspiracy between KFC, Mello, and Ultra Music Festival. People have too much time on their hands .
The fact of the matter is that Marshmello has Forbes rankings and probably really just did not like the KFC stunt invading sacred rave scene dancing grounds.
KFC's own Colonel Sanders @ #ultra was 🤷🏼‍♂️ pic.twitter.com/rPeef5EBxg

— Andre Saint-Albin (@AndreSaintAlbin) March 29, 2019
Shortly after Marshmello has deleted his tweet but here's what exactly he said:
This @kfc colonel sanders Djing at @ultra is lame. I can think of a lot of other artists that actually deserve to be on that stage instead.
— marshmello (@marshmellomusic) March 29, 2019